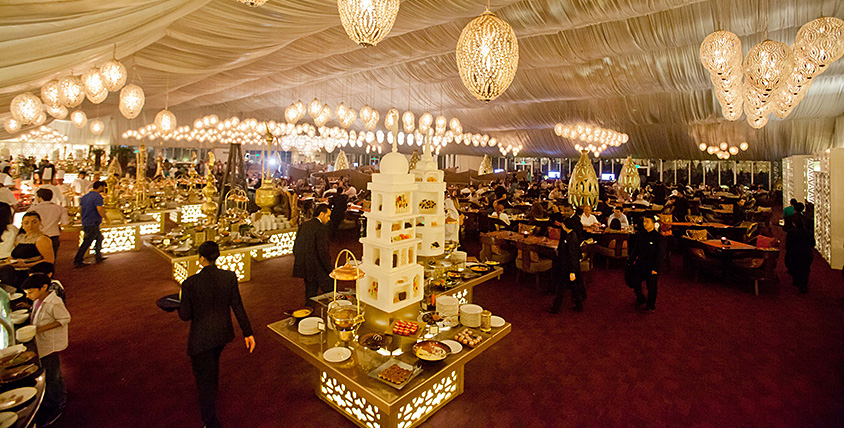 Atlantis Palm Hotel as usual Preparing to receive the holy month of Ramadan for the year through the organization of the Ramadan tent awe-inspiring, one of the most luxurious places during the holy month of Ramadan.
Asateer Tent capacity for 900 guests, and contains five boards, each board can accommodate them for about 15 to 20 people, while the Royal Council Visa for about 25 to 30 people. There is also a private room for prayer, as well as free internet service and free parking.
Asateer tent this year breakfast menu priced at AED 195 per person, excluding drinks, refreshments and Ramadan sweets at sunset and a breakfast menu for children between three and 12 years at a price of 95 dirhams The children less than 3 years free incomes, while offering a list Sahour includes the tastiest international cuisine every evening starting at 21:30 for people over the age of 21 years only.
And include menus for this year's diverse Arab and Gulf dishes including broad beans and hot barbecue and a variety of Italian, Indian and global prepared dishes dishes by senior That using the finest ingredients, in addition to various kinds of drinks such as apricot, as well as desserts such as Alasmnlah, Kunafa and Znod six traditional Arab and ice cream which is prepared directly in the cooking stations.
Asateer tent also provides an atmosphere full of different activities Ramadan most notably paper and chess and backgammon games in addition to youth activities shooting, PlayStation and large display screens to watch different programs and Ramadan serials. On the other hand, the camp offers a musical atmosphere is charming in playing the oud and drums by instrumentalists months to present the most beautiful instrumentals and songs Arab brilliant.
Location: Atlantis Hotel, Palm Island
Tel: 97144260800
Restaurant category: Oriental, Arab and international cuisine
Hours: from sunset to 2:30 – all days of the week
Price: breakfast menu AED 195 per person.
Payment method: Cash, Visa, MasterCard