Are you ready to boost your adrenaline while travelling? Then these roads are for you. We have a collection of world's scariest roads that are only for adventure lovers and those are not will not want to take these routes ever in life!
1. Passage du Gois, France
Passage du Gois is a 4km long natural passage nightmare for riders  located in the Atlantic coast of France in the Vendée department. This stretch of  road is flooded twice a day by the high tide. You need to be aware of tide times before driving here or you might disappear beneath the salty brine.
Danger doesn't end here, after the water washes away the lane it makes it slippery with the seaweed all over it. Located on France's Atlantic coast, the road floods twice daily with incoming tides and as the tides go out slippery seaweed is left all over it. So you also need to be very conscious while braking!
2. Luxor-al-Hurghada Road, Egypt
The road that links the ancient city of Luxor in southern Egypt and Hurghada gets creepy with the sunset. To drive on this road you need to switch off headlights and all other lights and pass like a wind or you may be dead halfway.
No use of lights and horns has caused many fatal accidents on this road to hell. The reason for drivers keeping their lights off is because bandits and terrorists patrol the roads and shoot at drivers. Night vision goggles may provide some help at night.
3. Tian Men Shan Big Gate Rd, China
Tianmen Shan Big Gate road is located within Tianmen Mountain National Park, Zhangjiajie, China. To reach the top or the Big gate is 11 kilometers long from the bottom to the top. When you reach at the highest point, do not dare to look down as it is 1.300m above sea level.
What makes it scary is its dangerous curves and turns. At the top there's a heaven gate, a natural rock arch that was believed to be the link between the gods and the mortal world—awaits. The scenery is extremely beautiful but taking your eyes off the road for a second may take you to the actual heaven.
4. Eyre Highway, Australia
Eyre Highway is the most sophisticated highway you'll ever see with a stretch of 1,675 km without any twists and turns, and that what makes it one of the most dangerous roads in the world. This highway links Western Australia and South Australia via the Nullarbor Plain.
Huge number of accidents are noted on this lonely highway because of it's loneliness, remoteness and driver fatigue. There are some programs to give free coffee to encourage drivers to take a break in between. But still it's the road in middle of nowhere, so there are chances of becoming a prey of wild life of Australia.
5. Zoji La, India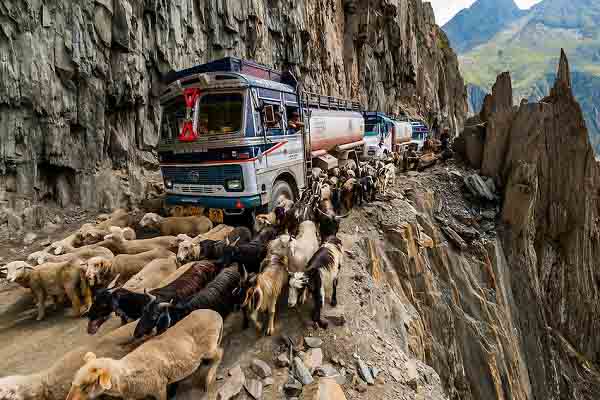 The Zozila, lying in the Western Himalayan Mountain Ranges is one of the crucial mountain passes in India at an elevation of 11,575 ft (3,528 meters) above the sea level. This road provides an important link between Ladakh and Kashmir & is closed during winter.
The sharp mountain edges, narrow lanes and weather conditions makes this road scary to cross. Only a single lane hugs some of the tallest mountains in the world may be waiting for you to take you to the second world out there. Total focus and great vehicle is all you need for Zoji La.
6. Skippers Canyon Road, New Zealand
The Skippers Canyon Roa of New Zealand's is known for it's alluring scenery but it's narrow lane on heights make it scary. This 16.5 miles road was carved by hand by miners over 140 years ago is made from a very narrow cut in the middle of a sheer cliff face.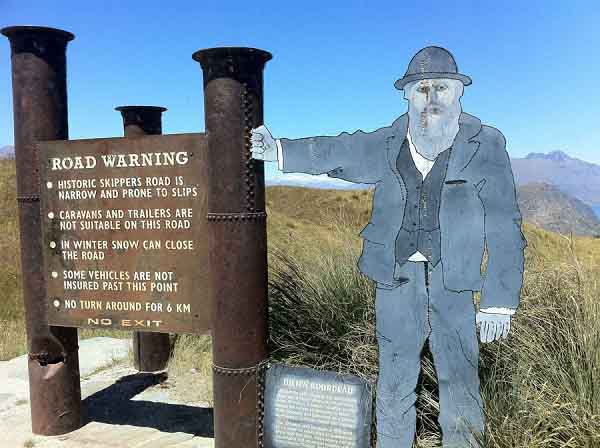 Although there are many photo opportunities here in daytime, it becomes a driver nightmare in the dark. In 1900s  all motor vehicles were banned from driving on Skippers Road but now there's no such ban luckily.