When it comes to cosmetics, Dubai does not accept a little. The simplest treatments are converted to another level of luxury. For example, the skin is covered with 24-carat gold layers instead of regular lotions, while simple nail polish becomes a work of art. Dubai is the destination of luxury and luxury seekers. Where can you bathe in a thousand roses and roses carefully selected or receive a multivitamin dose or find a place injected Botox in the scalp.
During the days of Dubai Shopping Festival, the days of shopping boom in the region, Dubai is receiving millions of shoppers and tourists from all over the world. Prior to the festival, Vogue Arabic compiled a guide divided into five key elements: fashion, jewelry, beauty, culture, and lifestyle. Read on to see the beauty guide from Arabic Vogue.
Talise Ottoman Spa
Located in one of the palm groves of the Palm Jumeirah, the Zabeel Sarai Hotel is one of the largest resorts in Dubai with its elegant décor. The Turkish hammam has a two-storey building with 42 rooms / private suite. You can also choose a cleansing program that contains special ingredients such as Arabian roses, gold and black soap. Or pamper yourself with the Rose Bells massage of the entire body, which is designed to resist aging and enhance skin elasticity. Do not leave before relaxing for a few minutes in the snow room that invites guests to experience the snow in the middle of the sea area, and it is a refreshing experience after a warm massage session.
Palm Jumeirah, Al Hilal Street (West)
Tel: +971 4 453 0456
One & Only Royal Mirage Spa
One of Dubai's most famous resorts, One & Only Royal Mirage Spa offers a range of ancient and modern treatments including intensive facial treatments, body scrubs and a range of massage services, all of which bring you vitality. Perhaps the most important feature is the Oriental Bath, which includes candles, the sound of running water calling for relaxation and warm marble tables to be a suitable place for your comfort.
Al Sufouh Road, Jumeirah Beach, Dubai Marina
Tel: +971 4 399 9999
Bab Al Shams Desert Resort & Spa
The visit to Dubai can not be completed without the experience of walking on the desert sands. Bab Al Shams Desert Resort & Spa is an amazing oasis located on the sand dunes away from the bustle of the city, 60 km from the center of Dubai. At this resort you will find the Story Spa, which offers a variety of services including a treatment room for couples, individual rooms, steam rooms, Turkish bath and sauna. The pools also consist of a central pool with a fountain and a pool overlooking the natural desert landscape. This place expresses exclusive luxury.
Al Qudra Street, opposite Endurance City
Tel: +971 4 809 6232
Cleopatra's Spa and Wellness
The Cleopatra's Spa and Wellness Center is a haven for men and women looking for comfort and care. Adorned with a giant golden statue of the Sphinx and lit candles for visitors to feel that they were transported to the pyramids of ancient Egypt. The center offers many services including massage and skin care rooms where you enjoy oriental music, a sauna, a swimming pool and a dimly lit place to allow guests to relax while drinking tea and fruit after completing treatments that include full treatments, from cupping with cups to chakras and even Skin treatments and body massages, as well as milk baths.
Ground Floor, Wafi Pyramids, Oud Metha Area
Tel: +971 4 324 7700
Biolite Aesthetic Clinic
It is hard to resist what the Biolite cosmetic clinics offer. They have very strong names, for example: 24-carat gold treatment, Dubai red carpet, Cryo Freeze and Pintsized Fashionista (a treatment session for teenage girls looking for pure skin at no extra cost) The award-winning clinics in this area are hair removal services, acne treatments and other cosmetic procedures such as facial floss injection and removal of unwanted moles.
Villa 57, Second Street, Umm Suqeim 2
Tel: + 971 4 346 6641
The Elixir Clinic
The Elixir Clinic from London was introduced by VitaDrips, a custom vein injection used by Hollywood celebrities such as Rayna, Kara Dilevin and Cindy Crawford. The injection consists of a group of essential vitamins and a variety of foods to fight certain health problems from hair loss to depression. It can also be used to treat wrinkles, obesity, insomnia, travel fatigue and even colds. This treatment has a clear effect unlike vitamin pills.
Jumeirah Beach Road, opposite Jumeirah Park
Tel: +971 4 344 5915
Dubai Marina Cosmesurge & Emirates Hospital
27th Floor, Al Habtoor Tower (Opposite Al Habtoor Grand Hotel) Dubai Marina
Phone: +971 4 447 1777, ext.206
SoH Dubai
This center was divided into two parts, half art gallery and half spa. You can say that the SoH center for art and beauty is not the usual nail salon, where you can get regular nail polish or ask the competent to paint on your nails (in the literal sense). The salon has been enhanced with various equipment to provide drying and hair removal services with an air dryer, a hair conditioner and a semi-permanent hair to give a unique touch to your hair. Artists are there to put their artistic touches on your handbag, purse or even your shoes if you want.
Galleria Mall, Al Wasl Road
Tel: + 971 4 344 4147
Www.soh.ae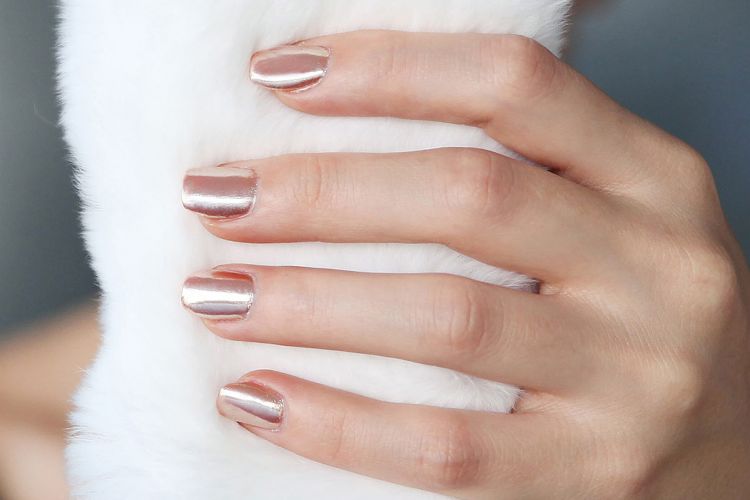 We Nails
If you find an award for the most visible show on Instagram in Dubai, it may be won by the recently opened We Nails Center in Dubai Marina. Where you will find the latest beauty in Dubai as the shiny chrome nails, and the center offers bright colors such as silver, gold and pink gold. Where you find the nail polish, which recently spread, and the technique of permanent eyelashes and hair extensions and hair removal and hair cutting, and soon will add henna inscription to the list of services. If you want more than that, you will know that Kaili Lip Kit's lips are available in many quantities.
Shop # 1, Skyview Tower, Dubai Marina
Tel: +971 4 452 8226
Www.wenails.de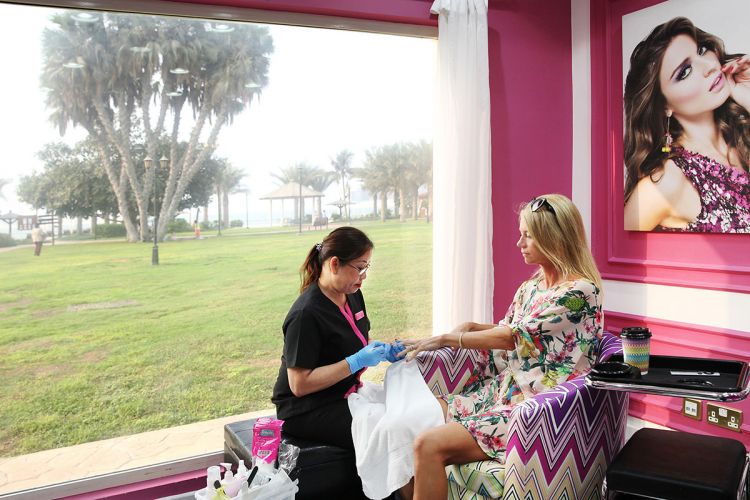 The Dollhouse
The Dollhouse is a fun salon founded by Mona the younger sister of Huda Qattan. The walls were painted with soft pink and decorated with violet basins for washing hair with a black and white marble floor and shiny chandeliers. It was named to inspire women to change their living rooms while being demobilized. It has a stunning view near the sea to be ideal for those who want to take care of their nails or looking for a center for tanning and waxing.
Dubai Ladies Club, Jumeirah Beach Road, Jumeirah 2
Tel: +971 4 385 4484
Shop 1, Souk Center, South Al Barsha
Tel: +971 4 347 3395
Www.thedollhousedubai.com
Sisters Beauty Lounge
Sisters Beauty Lounge offers a wide range of services including Botox facial and hair injections (hair loss), lashes, hair removal and skin napping sessions, to find the same lady in this salon for hours on end. Sisters Beauty Lounge has a wide range of five branches in Dubai. The lady can enjoy different types of hot and cold drinks or take cakes between sessions.
Dubai Mall, Ground Floor, Downtown Dubai
Tel: +971 4 339 8500
Emirates Mall
Tel: +971 4 379 2992
Mall of the Village, Jumeirah Street
Tel: +971 4 342 0787
City Center Mirdif, 1st Floor
Tel: +971 4 284 3554
Jumeirah Beach Residence, Amwaj 4, Dubai Marina
Tel: +971 4 557 9595
Www.sistersbeautylounge.com
 JetSet
For the perfect hair cuts or brilliant tints or hair layouts before spending the night out, head to the JetSet Salon. The salon has a well-trained, multinational team and you can rely on them to do great work in record time. From time to time, celebrity celebrity hairdressers (such as hair expert Jennifer Jeeves' Gigi) entertain salon customers in a way that suits the red carpet.
Emirates Boulevard Towers, Financial Center Area
Tel: +971 4 330 0886
Grosvenor House Hotel, Dubai Marina
Tel: +971 4 399 5005
Palm Strip Mall, Jumeirah Road, Jumeirah 1
Tel: +971 4 386 8604
Www.jetsetuae.com
Margaret Dabbs Sole Lounge
The Margaret Dabbs Sole Lounge is located inside the Levelle Shoe Shop at the Dubai Mall, and its bright entrance looks like a ladder to the sky. Al-Loung invites visitors to experience the pedicure sessions from a team of specialists who deal with foot health problems. They also use a variety of preparations, including Margaret Dabes. The center offers manicure sessions, a procedure that provides a non-soaking hand in water to maintain the color of nail polish for as long as possible.
Leewell Shoes Store, 1st Floor, Dubai Mall, Downtown Dubai
Tel: +971 4 501 6688
Ghawali
Ghawali is a group of luxury perfumes launched this year and specially made to suit the Arab custom of mixing perfumes. The name was inspired by the name "Ghalia", the first name for the perfume merchants brought to the Middle East, each of which presented its own composition to the ruling families. This combination of both sexes includes incense, bath products and oils as well as concentrated perfumes made from the finest ingredients such as: Indian oud, amber, damask, jasmine, patchouli, india and sandalwood.
City Walk Intersection of Al Wasl and Al Safa Streets, Jumeirah
Tel: +971 4 558 9815
Dubai Festival City
Tel: +971 4 224 5514
Www.ghawali.me
Shiffa Dubai
Dr. Lamis Hamdan has created an organic skin care product which is a skin oil that protects the skin and prevents the appearance of stretch marks. She also experimented with it during her pregnancy and when she saw her own results she developed the "Hefa" brand, which provides organic skin care products, and has won numerous awards in this field. Dr. Lamees uses Iranian roses, Indian amber, Egyptian jasmine, Lebanese orange blossom and African shea butter. Pregnancy oil is a key product within the Hefa Group today, along with a number of luxurious creams, peeling creams, oils and therapeutic preparations.
HUda Beauty
Dubai's famous blogger and cosmetician Huda Kattan has launched a brand of lashes that have been fully sold out on the market. She has continued to build this successful brand of mink fur, nail stickers, lipstick, Gold. All are sold through Huda Beauty and Sefoura stores.
Www.hudabeauty.com