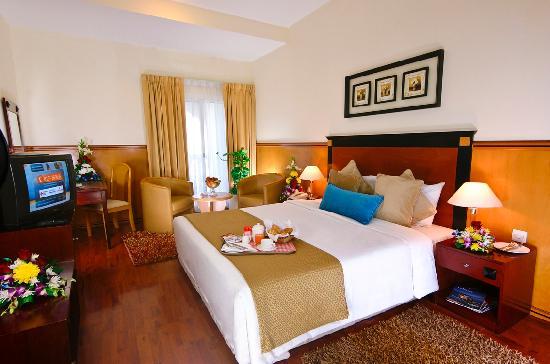 Although Dubai's famous city landmarks such as the Dubai Mall and Burj Khalifa & Fountain still attracts thousands of tourists every month, but the hotel occupancy rate has decreased considerably in recent times.
Many hoteliers and stressed that even though the weather is still pleasant in Dubai, but the occupancy rates have fallen by up to about 5% during the month of February, which is 2% lower than it was during the same period last year.
In a research note published on Sunday, Emirates NBD said that the hotel sector in Dubai, is currently facing a wave of headwinds, with the average hotel occupancy reached 86.2% in February, which is two percentage points lower than it was in February 2014.
And add a note that revenue does not look promising in revenue per room, a key indicator of financial performance in the hospitality sector, saw a decline of 7.7% during the past month and still recorded a gradual decline for the ninth month in a row.
We noticed a slight decrease in occupancy rate last February, but the Armada Group is still doing a good job in this sector, said general manager of the Ramada Plaza Jumeirah Beach Residence and Ramada Sharjah
One of the reasons that led to a business slump in the hotel sector in Dubai, is the decline in the number of tourists from the Commonwealth of Independent States, as well as to change the date of holidays to March in Kuwait, and competition from tourism markets in both Egypt and Turkey.
The occupancy rate at the hotel declined from last year by about 5%, as a result of many factors, including increasing the number of investors in the hotel sector, and the depreciation of the euro in the European market, in addition to the recovery of the tourism Egyptian market Sbqh for years ,Said Habib Khan, General Manager of Hotel Arabian Courtyard Hotel and Spa
On the other survivor, analysts attributed the decline in occupancy rates in Dubai hotels to increase the value of the dollar against a number of currencies of countries with emerging markets, which most visitors to Dubai which comes, which led to the erosion of the purchasing power of a large number of visitors, in addition to increasing the number of hotel rooms offered in Dubai.
And as of January 2015, the development of 38 new hotels under construction in Dubai, which represents a 16% increase on the number of hotel rooms offered at the moment, as the number of hotel rooms increased by 6.8% over the past month compared with the same period last year the former, while the total of rooms offered up this year than last year by 7.8%.