In this cold and beautiful atmosphere Many of us prefer to spend his weekly vacation in foreign facilities, in our topic today will give you a list of the best foreign recreational places of Dubai so that you can pre-planning to leave and spend the weekend fun with your children and your families.

1. JBR
One of the best external places as the walkway on Cinema is available on the outdoor external and Jim on the sands of the beach as well as green spaces and free kids games, are also distributed on the shores of the beach restaurants offering fantastic views of the sea Outdoor Area. For shopping enthusiasts recently opened GPR mall open overlooking the sparkling beaches of Dubai, making shopping a wonderful and enjoyable experience.
2- CityWalk
Dubai CityWalk is located and yours between Al Wasl Road and Street Safa Dubai which is the point of an upscale shopping and entertainment, where many entertainment family events at the end of this week held will decorate band jazz place and gives a wonderful atmosphere of quiet romantic music, as you can sip coffee or afternoon tea in one of the many cafes in Walk and enjoy the musical atmosphere, Show statues live exhibitors painted in gold and bronze roam around the City and yours. As for the young, there are free places to play and entertainment.
3- Al Ain Zoo
In this large Zoo you can see a wide range of African animals which roam freely around the reserve. Enter the park AED 15 for adults and AED 5 fee for children and is open every day from the 9 am to 20:00.
4. Visit animal farms in Dubai
In the past Topics we have known Posh Paws ranch in Khawaneej, live on the farm a wide range of animals, birds, visitors can directly contact with animals such as ostriches that run loose on the farm and parrot birds, turtles, rabbits and others. Farm offers a family sessions where you can bring food and eat at the farm. Free entry to the farm.
Posh Paws Animal Sanctuary & Petting Farm
Telephone: 050 2730973
5- Family Picnic In The Greens
The Greens in the residential area there are sessions green and beautiful views of a series of small lakes and trees and green spaces distributed in wooden chairs where you can sit and eat snacks you purchase from supermarkets nearby, such as a supermarket Choithram The Greens.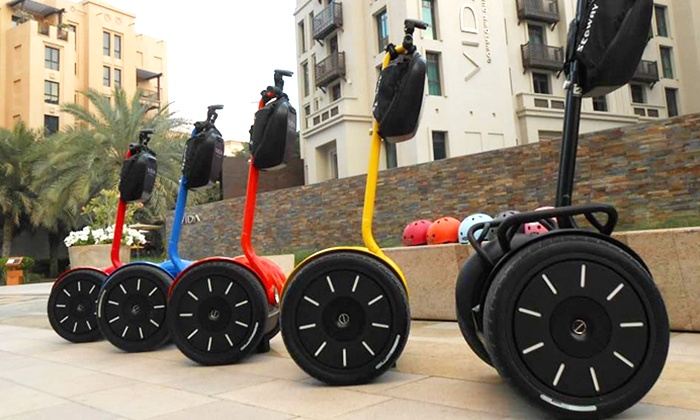 6- Picnic in Burj Khalifa By Segway
Pavilion Downtown Dubai offers Segway rental service time from 10:00 to 19:00, where you can stroll in the most prestigious square kilometer in the world.
Segway works to balance the body forward when you move forward and stop when you move back a little, and the speed does not exceed 10 kilos.
7- Dubai Creek With Heritage Abra
In this area you can learn about the features of the old Dubai riding lesson to wander around in the creek and visit the old markets such as Spice Market and fabrics and gold market. AED riding lesson one price, and there are three stations of this collective heritage means to navigate, the first in the old Deira Station and Sabkha station Shindagha, Ghubaiba Market
8- Global Village
Global Village offers a great atmosphere for hiking, shopping and family entertainment, you can walk around and visit the world in one place and taste the best offerings of various kinds of cultures. Offers several recreational activities and folk dances and music global village. Access AED 15 per person fee.
9- BBQ In Public Gardens
Invite your friends to enjoy BBBQ in one of Dubai's public gardens, including the Creek Park, Zabeel, Al Safa, Musharraf and flowered. These gardens provide a family sessions and barbecue facilities and places dedicated to children's toys. Receives Zabeel Park on Friday Ribe market, Gate 1, and provides visitors with a better market food products and organic foods, open market from 9:00 to 17:00.
10- Visit the city of Sana'a in Dubai and the surrounding area
This tourist resort which integrates architecture, for the most important Yemen cities the old historical city of Sana'a and Shibam Hadramout in project in the Kingdom Resort Spa is located in the crescent of " The Palm Jumeirah '. You can visit the resort is unique of its kind, and then move on to visit the Zabeel Saray Palace and other sights of the Palm Jumeirah