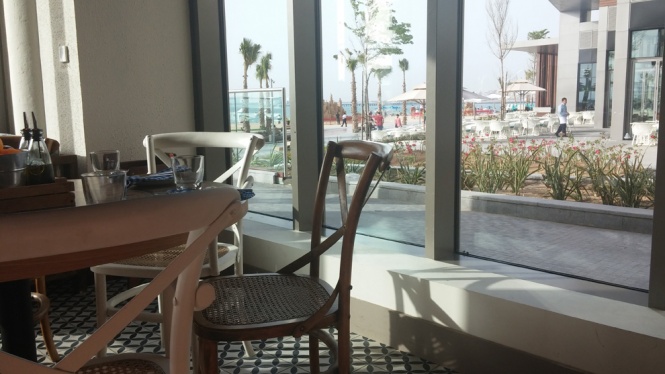 No one disagrees on the magic of Greece, what God has endowed the beauty of nature and the beauty of the beaches, and the nature of the mountainous islands scattered in the Aegean Sea made it a place captivate kernels.
Nature did not capture the hearts of fans alone, but Greek cuisine captured the hearts of millions of fans for being a kitchen unique and different from the rest of the international cuisine, where it combines the rich taste eastern European spices and rich taste flavors.
Now, at the Jumeirah Beach Dubai has become an opportunity for us to enjoy the Greek distinctive taste with a unique and charming atmosphere in the "Eat Greek" restaurant, which recently opened in "The Beach" beach destination prominent in Dubai.
When I entered the restaurant "EatGreek" was welcomed me warmly and friendly and then began to reflect on the wonderful and remarkable decorated restaurant where modern elegance combined with the attractiveness of rural character, which is found in canned mortar matrix neatly with quiet colors of the chairs and wooden color natural leather seats compact with the existence of a rectangular table in the middle of a stone vase coordinated by natural roses, and the rest of the corners of the restaurant decorated with white cages suspended above the dining tables to give the place for artistic touches we have seen in every corner of the restaurant.
Restaurant "EatGreek" offers many varieties of appetite, which come in small Kotabaq for entrees such as the "tzatziki" famous and feta cheese or grilled chili turkey stuffed in addition to the Greek green power and power-ups.
It is the tastiest dishes that exist in the list is the Greek Sandwiches similar somewhat with "shawarma" but progress Psych pork or grilled chicken on coal from the "Souvlaki Souvlaki" Greek, which is the master of Greek dishes to enjoy its popularity, and offers "Eat Greek" The "Souvlaki Souvlaki" dish independently and also in a way that includes all bars hanging meat varieties problem can also be asked of each type separately in addition to that list includes Almsagah and stuffed burgers and delicious desserts and fresh drinks.
It remains to point out that the restaurant's large outdoor terrace as well as sessions on the top floor to enjoy the panoramic view of the sea and the island of Palm Jumeirah, which is rich with many unique features.
Address: The Beach The Walk on JBR – Dubai
Phone:04 430 5249