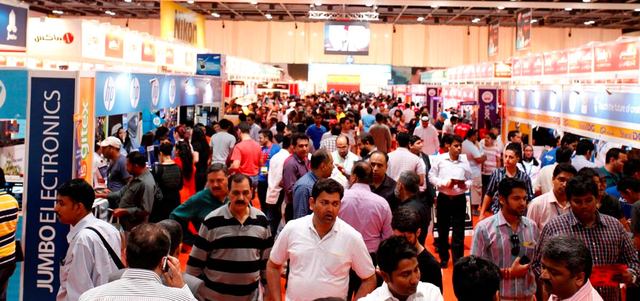 HE Sami Al Qamzi, Director General of Department of Economic Development in Dubai opened the spring session of GITEX Shopper 2015 shows one of the largest consumer electronics and most important in the Middle East today.
And continue the activities of the event at the Dubai World Trade Centre until the fourth of April amid wide participation of brands and retail companies of regional and global exposure of more than 35 thousand products.
Enjoy thousands of visitors and many recreational effectively targeted included musical performances and contests and competitions on the value of prizes in a festive atmosphere.
And will be held along with the spring session of the GITEX Shopper this year edition of "Smart Shopper Living," which also received on the first day of thousands of visitors.
Said Trixee Loh Marmand Senior Vice President at Dubai World Trade Centre that GITEX Shopper meet the high demand of consumers on the latest technologies.
During the exhibition, the Chinese company Lenovo has reviewed the first laptop made from 9 carat carat gold in the world, as well as the smartphone "Lenovo S60".
Samsung provided "SUHD" Revolutionary TV, also won   consumers the opportunity to experience the "Galaxy S 6" and "Galaxy S 6 Edge."
The company launched "Emacs" for its customers "amazing gifts such as:
1. "Galaxy S phone 5" with LED TV from Toshiba measuring 40-inch full HD encounter dirhams in 2399.
2. computer "Z4070" laptop from Lenovo with LED TV from Toshiba measuring 40-inch full HD encounter AED 3199.
3. Smart TV three-dimensional high-definition Samsung measuring 55 inches at a price of AED 4799 with the recovery of the amount of AED 700.
4. Phone Galaxy "Grand Prime" from Samsung with the Galaxy TAB tablet device from Samsung to meet AED 999.
The company introduced the "Jacky" joy to the hearts and the hearts of visitors to GITEX Shopper to "Age Award," a holiday worth 25,000 dirhams to any destination in the world.
The company explained that one person will win every day during the session to spend a holiday to a destination of his choice in the world, under the slogan contest "Choose your dream vacation." The five names to choose through a letter every two hours to withdraw, and win one of the total names jackpot daily, and will be selected a total of four winners by one winner every day, while you will get the rest of the finalists names on slips of "Dubai Aquarium" and "Real Cinema" and "Tim Hortons."
And visit the exhibition will provide an opportunity for visitors to win a Mitsubishi Pajero Elite alloy of gold, and vouchers from "Emacs" and a range of Samsung products including smart phones, microwaves, printers and monitors. The final day of the exhibition holds more entertainment with dance competition organized by the newspaper 7Days, which will determine by visitors to the exhibition in Dubai best dancer