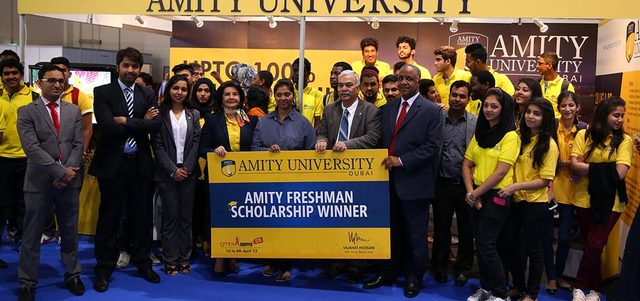 Expect Dubai World Trade Centre that thousands of visitors flock and shoppers on the third spring session of «GITEX Shopper», gallery «Smart Shopper Living»   which concludes this evening.
«Amity» University in Dubai announced yesterday that the high school students of visitors to the exhibition will have the chance to win four scholarships value of each one 30 thousand dirhams.
According to a statement issued yesterday, all students under the age of 20 years old, currently studying in grade 12 or completed study it, will have the opportunity to apply for a scholarship when you buy a ticket to the show, calling on students who are interested in applying for scholarships, to visit University platform in the exhibition, and the mobilization of a registration form, and attach it to a record 11th grade scores, and by the end of the event. The candidate will receive the highest grades and one scholarship from the university at the end of each day of the show, and can be used to study the first year of any of the undergraduate programs offered by the university. The General Director of Marketing at the University of «Amity», Manjyot Sandhu, said that «focus on revolutionary innovations in science and new technologies leading the league to support technology initiatives in the region».
It is noteworthy that the exhibition tickets entitle visitors as well as to engage in a number of withdrawals «Button» and win that gives 40 visitors lucky chance to win phones «Galaxy S5» smart, or a car «Pajero Elite» from «Mitsubishi», at a time when major retailers continue to make deals and presentations on the latest products.