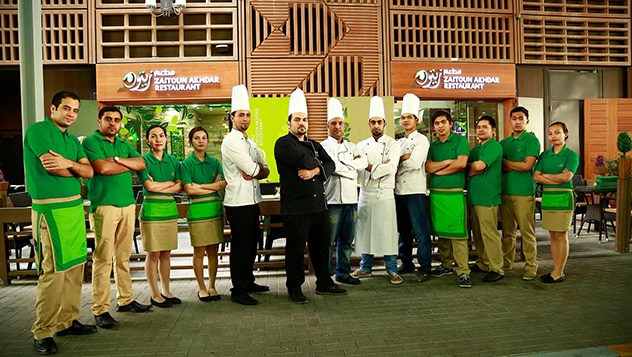 Zaitoun akhdar restaurant which opened yesterday in the heart of the UAE capital Abu Dhabi , one of the latest Arabic authentic restaurants full of the spirit of the past and the Middle nobility and originality.
Zaitoun akhdar restaurant stems from the notion that hospitality is one of the pillars of the ancient shami kitchen , a proven through the ages and in different countries that came to them.
Offers Zaitoun akhdar restaurant that lies in the most important shopping center restaurant in the capital Abu Dhabi and is the market _ the World Trade Center magnificent views of the Sheikh Khalifa Street, various Eastern Arabic dishes prepared by chefs who have experience of what befits Zaitoun akhdar restaurant .
Ahmed Omoush restaurant manager says: We have discussed at length how to provide a list of food a distinctive and expressive of our shami kitchen inherent has come to the menu featured unparalleled where the most important oriental dishes and grills of all kinds and mixes new and different addition to the pastries and fresh bread prepared from your oven restaurant and pizza types as well as many types of cooking Shami long history and we have a list of countless of appetizers known and juices of all kinds and there are many of the world's Western dishes.
Green Olive Restaurant management has made sure that all your progress according to a deliberate plan which is keen to pick the finest meats, fresh vegetables and fruits, as well as a healthy way of preparation.
"The occasion of the holy month of Ramadan we have prepared a daily breakfast buffet where everything previously mentioned, of the tastiest and most delicious Ramadan dishes either cooking or appetizers or desserts or juices Ramadan appetite."
It is worth mentioning that the Olive restaurant offers panoramic views of the Sheikh Khalifa Street and has external and internal meetings within mays authentic decorations.