If you're shopping lovers and researchers about fashion Quite confirm Dubai is going to be your first choice and it is a favorite tourist attraction points in the Middle East region in terms of the largest and best shopping centers in the world.
When you visit "Dubai" will be treading in front of shopping options and exercise while shopping in Dubai then you are practicing a favorite pastime you enjoy every moment of her day feel strange sense of fun and joy and psychological comfort that make you not feel the passage of time and you shop and enjoy
The Dubai Mall
The Dubai Mall, the largest shopping mall in the world market and the largest entertainment destinations in the region which includes more than 1,200 retail store featuring luxury brands sale and include attractions on the rink on the ice and a cinema of the 22-screen display, as well as «Dubai Aquarium» larger interface display marine organisms, which includes hundreds of sharks and fish and marine organisms and includes a special exhibition garden marine Granger and other well many restaurants and very luxurious shop.
The mall also houses one of the finest hotels and is the Address Hotel is an ideal place for Cassidy mall and enjoy the momentum and events organized in the mall as well as its proximity to the world's tallest tower Burj Khalifa, a chance to start your visit to Dubai, where lets you climb to the top of the tower on the 124th floor, where you can see the emirate's 360-degree platform viewing there are also private balconies you can see Dubai from the perspectives and if determined to gold to the tower would prefer to book a ticket to climb a 100 AED or you stand too long across the "line of Zor" but if the time there are not allowed to ticket AED 400 for quick passage, depending on the day of the visit.
And just meters from the Dubai Mall, Souk Al Bahar is an Arab commercial market and includes 100 stores in a combination of distinct stores that accommodate 22 restaurants and cafes. Souk Al Bahar derives its name from both traditional architectural stone structure of the market and offers shops, boutiques authentic Arab heritage products through a variety of handicrafts authentic and trendy clothes, perfumes, carpets, furniture, home furnishings and trendy.
Emirates Mall
Mall of the Emirates is months there because of the larger ski slope on the snow, a "Ski Dubai" first indoor snowy resort in the Middle East and includes many of the stores that carry the names of the global as well as it offers a full range of shopping and leisure facilities and entertainment services. Include family entertainment mission planet magical family entertainment area, and a multi-cinema house includes 14 display screen, and the club scene and the famous Dubai commercial market for global ski.
The mall presence also features one of Dubai's metro line, which is possible to take a short trip to any destination in Dubai also boasts the mall luxury Kempinski Hotel, which briefed on the ski slope and offers innovative guest experiences include products from the most exquisite rooms and the most elegant in the region, and 15 cottages wonderful ski combines between sand and snow and represents the "executive tower" luxury presidential Suite luxurious elegance with modern luxury suites to provide a special refuge for guests outstanding has been All rooms are equipped and suites .393 rooms also boasts a number of luxury as a restaurant "Aspen" restaurants that chose "Time Out Dubai" magazine within 10 best places for coffee and tea in Dubai.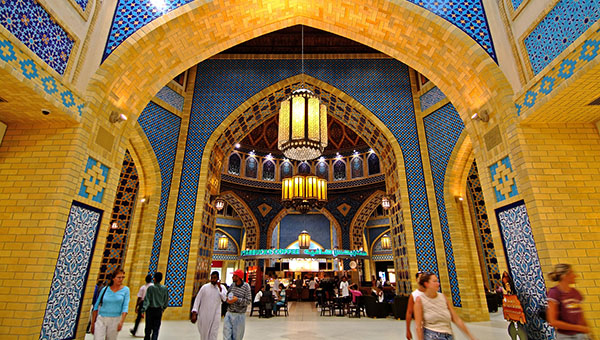 Ibn Battuta Mall
It was launched this name after the name of the Arab traveler Ibn Battuta is the model that inspired the market of trips this great traveler. And it called on each section of the commercial market sections name of the areas just rollover Ibn Battuta names Indonesia, Tunisia, Egypt, Persia, India and China has been drawing the technical architecture for each zone in the backyards of the commercial market and includes many of the luxury and local brands as well as the area for restaurants and a large cinema ..
The mall also offers an ideal accommodation in hotel Movenpeix Ibn Battuta Gate, which Each room of the hotel rooms are spacious 396 rooms guestrooms beautifully colors and patterns of the Moroccan character, while marked by all the wings nature of African and Asian countries and the Middle East and southern Europe, which he visited Arab traveler Ibn Battuta in the fourteenth century.
Marina Mall
Dubai Marina Mall is a shopping destination amid the latest tower in Dubai and the most dynamic and vibrant, and with a selected group of 160 stores, the Dubai Marina Mall is well-equipped to meet the needs of modern living diverse community of Marina. And shopping options range from everyday goods and services, to trendy apparel and accessories, entertainment, furniture and home furnishings. For lovers of going to the cinema, there is a movie theater with six screens display the latest movies. There is a major attraction enjoyed by the Dubai Marina Mall, namely Jornett seven-storey tower, which expresses a sophisticated idea of ​​private international cuisine, which is calling for shoppers and visitors to sit and eat and enjoy views of the marina as they sat in an open outdoor multi in Dubai and cafes Air Restaurants Marina Mall.
Dubai Festival City
Festival Centre is a major destination for festivals and concerts in Dubai where he hosted a number of world-level events and shows and is a retail resort Festival Centre and the pivotal center of Dubai Festival City with more points of attraction in the retail, restaurants and entertainment sector. Combines Festival Centre under one roof more than 400 retail stores from the global level, and 95 restaurants and cafes and a complex Grand Festival Cinema with 12 display and contributes to its location on Dubai Creek attracting many photography enthusiasts to enjoy the views of sunsets and picturesque houses between the flanks opportunity to stay in the Intercontinental and Crowne Plaza Hotel.
Mirdif City Centre
As comes Mirdif City Centre, which includes 430 worldwide stores which offers a system of new and unique, such as your children's "edutainment" entertainment center – the city of the games, including the game fly in the sky 'iFLY' interior, playground bowling consists of 12 hot and Circus Dubai Football and the water games for younger children, as well as a multi-cinema with 10 screens, which gives shoppers as the multitude of options available. It includes fixed task Carrefour shops, cinemas Cine Star and Debenhams WiMAX and Centrepoint and Home Centre and Fitness First.
Dubai Outlet Mall
For those looking for real cuts Dubai offers Outlet Mall chance to shop at the cheapest prices world-renowned brands and offers mall big discounts on more than 800 brand well-known global and local, and by up to 70%, as it provides a means of entertainment for families and leisure activities for children and restaurants for visitors and is located Dubai Outlet Mall Dubai's outskirts and specifically in the Dubailand area of Dubai in the way of Al Ain road 66, just half an hour in the limits of the city center
Dragon Mart
For those looking for cheap Chinese products, there are riders Mart, which was built on a dragon form, Dragon Mart complex is located on an area of 1.2 km, the largest trading center for Chinese products outside the territory of China. Currently complex offers more than 3,900 outlets operated a commercial area of 187,000 square meters.
Times Square Center
The advantage of Times Square Center existence of a coffee shop snowy It is the first of its kind in the Middle East, an exceptional idea where intervention in the temperature region of less than zero and contains walls and tables and benches, so you take your drink your cocktail your made of snow in whole or in dealing with your coffee Favorites in the atmosphere of the Inuit and the Centre was strategically located on Sheikh Zayed road, as well as providing a strong offers to sell electronics and home furniture upscale. And where the center includes specialized stores beginning on the needs of children and trendy games, fashion, and even ladies fashion and accessories through to electronic, furniture and home furnishings, hardware, it is a shopping destination ideal for families fully It also has the largest electronics store in Dubai.
BurJuman
BurJuman is located in the heart of Dubai, which is not just a shopping center, but also includes a commercial center and a tower for business and serviced apartments and upscale homes.
BurJuman is known as high-end fashion house, as it includes a number of the most prestigious brands in the world of fashion, which meets in Dubai under one roof the world, which include both Saks Fifth Avenue, Louis Vuitton, Dior, Chanel, Hermes, Valentino, Dolce & Gbana, Versace, Fendi, Emanuel Ungaro, Hermes, Cartier, Van Cleef & Arpels, Tiffany, Just Cavalli, and many others.
With more than 300 brands upscale global favorite, meets the needs of the elite BurJuman shoppers, it also provides them with a comfortable and enjoyable shopping environment BurJuman spacious and stylish designs in addition to many foods options.
Al Ghurair Centre
Al Ghurair Mall is the oldest shopping center was created in the city of Dubai, which dates back to its founding nearly 25 years; a second feature may lead you to visit and discover the architecture of the building, which dates back to the old quarter of a century almost.
The first thing Ahdk in this mall is its vital when the fish Square in the heart of Al Rigga Street Deira; feature made him a magnet for thousands of visitors from residents and tourists, and this allowed and well-deserved title of the spirit of the city
Will have undoubtedly shopping experience ideal, integrated in the Al Ghurair; how not to, which is, which houses more than 250 shops, spread over three full floors, only to find the one all Yemeni self obtain it within a wide variety of options, including the trendy women's clothing and men's and ornate liquidity, as well as cosmetics, watches, accessories, and shoes. The latter also includes a number of stores selling supplies houses of antiques and decorations, and many more