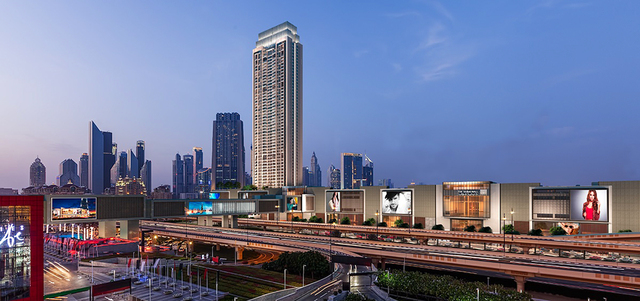 Emaar Properties announced yesterday the launch of the latest residential projects «Downtown Fuse», which enjoys views of the «downtown Dubai» sales.
The company said in a statement yesterday that the new project offers to customers the opportunity to purchase homes directly linked to the «Dubai Mall», pointing out that the new apartments are located above the platform, consisting of nine floors, which will be built to be part of the expansion of «Dubai Mall» operations.
She explained that «Downtown Fuse» consists of 418 residential units ranging from apartments, which includes one-bedroom or two or three, in addition to a set of apartments the «Duplex» on the upper floors of the project consisting of 55 floors.
She added that the sales launch will be tomorrow at the same time in both Dubai and Abu Dhabi and Doha, starting at 10:00 UAE time, indicating that the sales are held in «Emaar Pavilion» on «Boulevard Mohammed bin Rashid» in «downtown Dubai», and sales center «Emaar» Renaissance Tower in Abu Dhabi, in addition to the hotel «Four Seasons» in Doha.
The Managing Director of «Emaar Properties», Ahmad Al Matrooshi, said that «(Downtown FUSE), a housing project unique by all standards, and unique bio-location, which is directly linked to (Dubai Mall)», pointing out that «the project will be equipped with the latest equipment» .
It is noteworthy that «Emaar Properties» granted long-term investors and end-users the opportunity to register within «distinctive program for clients Emaar» through its website (www.emaar.com).