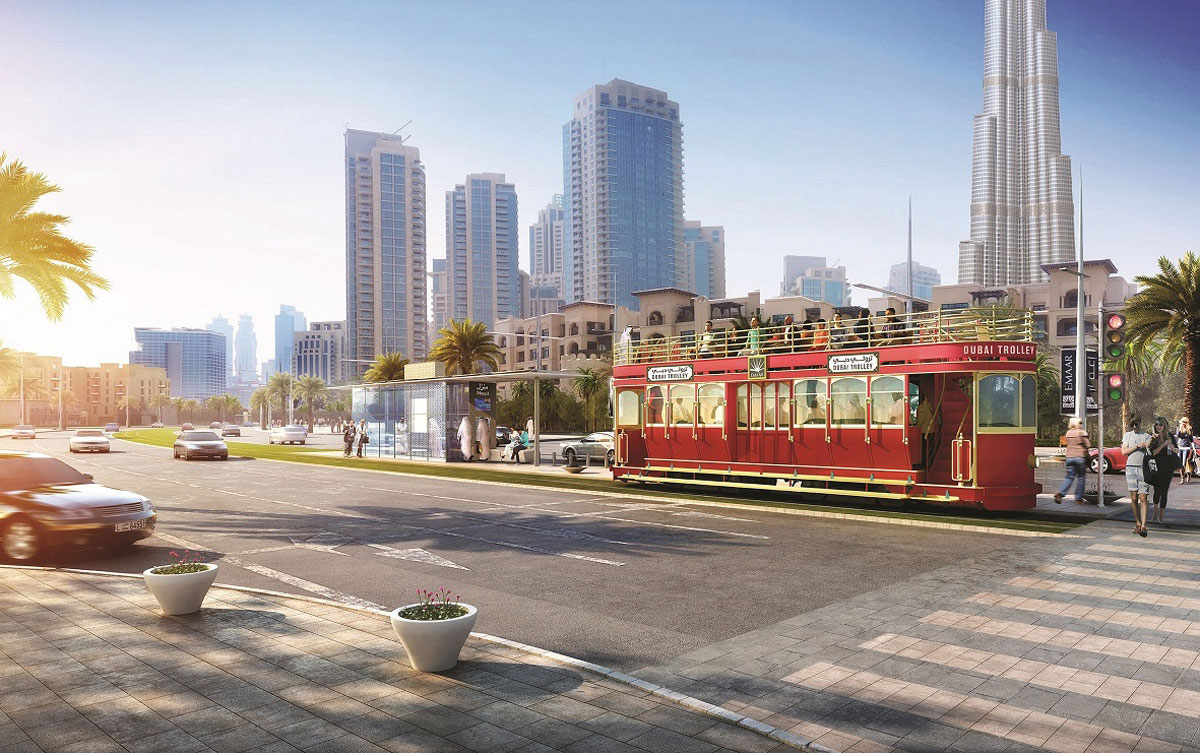 Dubai Trolley has arrived. The region's first hop-on hop-off trolley system in Downtown Dubai, also featuring the world's first hydrogen-powered trolley trams, is currently being tested, following the delivery of the first trolley tram at Mohammed bin Rashid Boulevard.
Emaar Properties is redefining the norms of urban mass transit within Downtown Dubai with the roll out of Dubai Trolley. It will soon become another popular visitor attraction and a convenient mode of transit in Downtown Dubai.
The hydrogen and electric-powered trolley tram is being assembled on site with testing and commissioning to be undertaken shortly. Work on Dubai Trolley stations is also progressing as per schedule.
Dubai Trolley's first phase that will be unveiled soon connects visitors and residents over a distance of 1km, passing by Burj Khalifa, The Dubai Mall, The Dubai Fountain, Souk Al Bahar and Mohammed bin Rashid Boulevard.
The imported double-decker trolley trams have been specially designed for Emaar. They are resplendent in bright red with aesthetic gold pin-stripes and green trim colours, and have Arabesque design features. Each double-decker trolley tram can carry 74 passengers, who can opt for open-deck or air-conditioned seating. They can then hop on and hop off at locations of their choice, enhancing connectivity within Downtown Dubai.
Ahmad Al Matrooshi, Managing Director of Emaar Properties, said: "The Dubai Trolley is an innovative and sustainable mode of transit that fits perfectly with the requirements of visitors and residents alike to Downtown Dubai. With so many world-class attractions in one square kilometre, visitors and residents needed a convenient mode of transit that provides them seamless connectivity while assuring a leisured pace. We are continuously innovating on the lifestyle choices we provide for our visitors and residents and the Dubai Trolley will be a fascinating attraction for people of all ages."
Work on the Trolley Terminus near Old Town Island, which will feature F&B offerings, and other depots are being accelerated. The stations have an aesthetically appealing façade and will be air-conditioned to maximise visitor comfort.
Being hydrogen and electric powered, the Dubai Trolley has zero emissions and will travel at an operational speed of 16 km per hour, although it has a maximum speed of 80 km per hour. Several crossings have been provided along the tramway to safe pedestrian traffic.
Assuring high degree of urban mobility, Downtown Dubai is linked to the Dubai Metro through an air-conditioned travellator. It is by public transport including Roads & Transport Authority's buses and taxis. Visitors also have the choice of touring the 500-acre development through The Boulevard Bus Tour.
source : Eemirates247