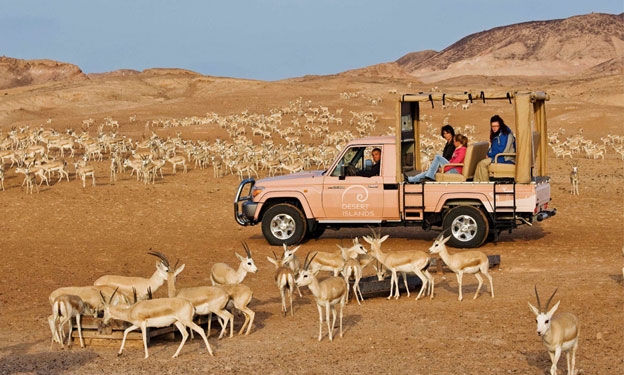 Sir Bani Yas Island is one of eight sites, all of which are the desert islands in the western region of the Emirate of Abu Dhabi, with its natural façade, abundant activities and exciting adventures, a five star hotel, a number of luxury villas and stables, The area has several historical sites.
Arabian Wildlife Park in Sir Bani Yas Island
Sir Bani Yas Island contains the Arabian Wildlife Park, which has been awarded the "Best Sustainable Tourism Destinations in the World" award presented by the World Travel Awards for the year 2000 and is set on the island of Angela. The Arabian Wildlife Park, located on the island, is home to more than ten thousand different species of animals roaming freely throughout the park. The park is one of the largest land reserves in the Arabian Peninsula, covering more than half of the total area The island is one of the most prominent animals in the Arabian Oryx, in addition to deer, giraffes, and hyenas. Recently, the cheetahs have reached them, and visitors and tourists can tour the park through a four-wheel drive to enjoy exploring. Baia charming nature and wildlife in the park, using a special this car accompanied by a team of experts.
 Hotels and resorts
Visitors to the island of Sir Bani Elias have three different options from Anantara Resorts and Hotels so they can enjoy the best of times at the Desert Islands Resort and Spa by Anantara Five Star, or by relaxing relaxing on the beach at Al Yam Anantara Resort, Which is located on the east shore, or the visitor can enjoy the breathtaking natural charm of the island at Anantara Resort Villas Easy. In addition to this, the visitor can ride modern horses, enjoy various equestrian activities and riding lessons, which are designed to suit the individual abilities of the visitor. The visitor can explore the island through tours provided by Danat Jebel Dhanna Resort to its guests.
Historical monuments on the island
A Christian monastery was discovered on the island of Sir Bani Elias. The monastery is the only one discovered on the land of the United Arab Emirates. The monastery can be visited through the tours of the Desert Islands Resort and Spa. It is believed that this monastery was built in six hundred In 1975, he was abandoned. The remains of this monastery were discovered during the excavations that took place on the island in the year nineteen ninety-two.
Access to the island
Rotana Gate operates five flights a week from Al Bateen Executive Airport in Abu Dhabi towards Sir Bani Yas Island. These flights take place on Sundays, Tuesdays, Wednesdays and Thursdays in addition to Saturday, every week. The cost of this 30 minute flight is AED 400, The airline flies from Dubai International Airport three days a week on Mondays, Thursdays and Saturdays. It takes about fifty-five minutes at a cost of AED 400.