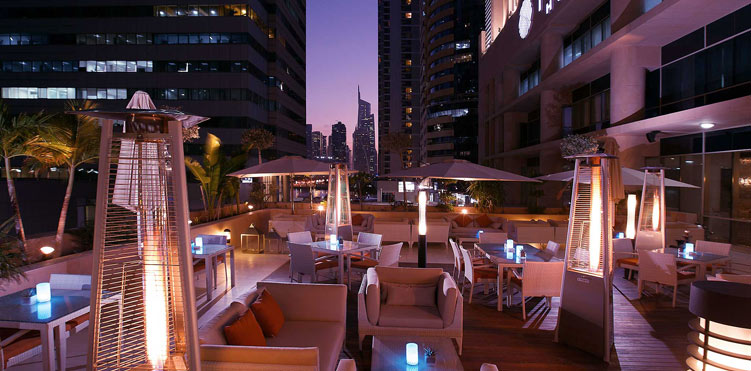 Enjoy gourmet who visit the restaurant and terrace «LA VUE» Pullman Hotel Jumeirah Lakes Dubai Towers, comfortable atmosphere with friends and relatives in a great atmosphere and wonderful, and relax after the completion of a long work day and tired, as they can choose «LA VUE» to hold a morning business meeting, and lunch, or enjoy a view of the wonderful line of the famous skyline evening while enjoying shisha with different flavors, in addition to various beverages and delicious.
In LA VUE restaurant and terrace Thzin services commensurate with the high level of services in Dubai, in addition to providing a social atmosphere for diners through the design of the restaurant Pacific and joint sessions that add intimacy of the place and the atmosphere charming and more fanciful, also features a menu by providing a number of Refreshing drinks, and hors d'oeuvres, and carefully selected authorities to suit all tastes, as well as fresh grill and a number of delicious dishes.
LA VUE restaurant and terrace offers a gourmet who they mean different drinks orange juice and mint, lemon and mint and cocktail own fruits, restaurant overlooks on Sheikh Zayed Road creates a vision of great panoramic, as it is located on the first floor of the Pullman Hotel Group T Lakes Towers Jumeirah Dubai, restaurant patrons and receives daily from 5:00 to 1:00 pm and midnight.
It is an enchanting place will not Tqsidih and Tendmin at all because it does not only provide just the survival of a charming but also do you spend the most beautiful times accompanied by who you are with them so as not to be your experience unprecedented at all and Thzin Bohaly sessions and you do you see the distinctive horizon which adds further luster to the place .