Fairmont Ajman Located on the shores of the Emirate of Ajman, Ivory Coast embraces the waters of the Arabian Gulf Turquoise, and is known for its hospitality style in the world of hospitality. The luxury of this hotel is distinguished by its distinctive design, from the elegant reception lounge to its luxurious and elegant touches. With its high-end services, the hotel has enhanced the concept of hospitality and excellence and has become globally associated with the luxury hotel chain.
The hotel's 252 rooms and suites are distinguished by their striking elegance and clearness, their spacious spaces and stunning views of the bay, and its modern decor combined with modern touches of dark wood panels, glittering marble floors, luxurious leather designs and harmonious geometric touches. Fairmont Ajman has a choice of guest rooms, up to four bedrooms, making it an ideal choice for families, groups and friends.
There are more than eight restaurants available in this hotel, offering visitors the chance to enjoy the finest cuisine from all over the world in a luxurious setting and stunning views. Starting with the Spectrum restaurant, which offers open cooking stations, the pleasant Italian Gioia restaurant serving delicious traditional Italian dishes, and Zulu, which offers the most delicious juices, cocktails and shisha varieties along with the swimming pool for a perfect relaxation session.
The hotel offers many activities including water sports such as swimming and scuba diving, windsurfing, beach activities such as volleyball and beach tennis, a free children's club, and a special services section that helps guests organize the exploration activities they may wish To compete in Ajman and other Emirates.
Fairmont Ajman Hotel is a premier resort of NINE Degrees, featuring a range of body revitalizing treatments, brain cleansing, muscle massages, skin treatments and other treatments by specialists in eight different treatment rooms, as well as the extensive Turkish bath area, steam rooms and sauna. And a barbershop specializing in decoration services. Next to the spa is a fitness club with panoramic views of the Arabian Gulf, featuring the latest Life Fitness equipment and a whole team of professional fitness professionals.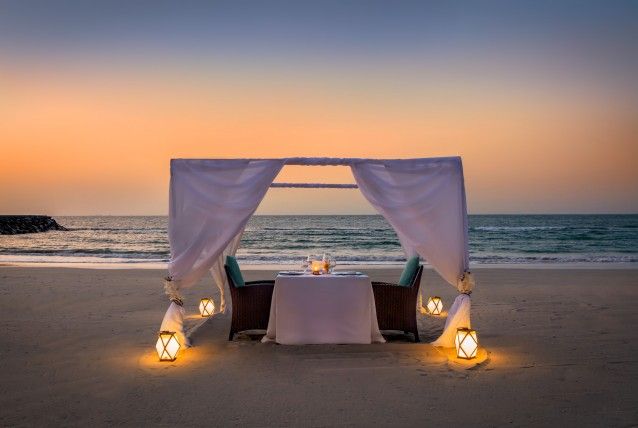 Fairmont Ajman is just 30 minutes from Dubai International Airport and 15 minutes from Sharjah International Airport. Which is not far from the Emirate of Dubai and the most prominent features of the state. It also invites rest and relaxation seekers to spend unforgettable moments away from the busy routine of everyday life, in an atmosphere of luxury and luxury.
The hotel offers a lot of special services to meet all the needs of its visitors, so you can get this wonderful table to enjoy a quiet breakfast or romantic dinner away from the atmosphere of restaurants
Sheikh Humaid Bin Rashid Al Nuaimi Street
Ajman
United Arab Emirates
TEL + 971 6 701 5757
FAX + 971 6 701 5656