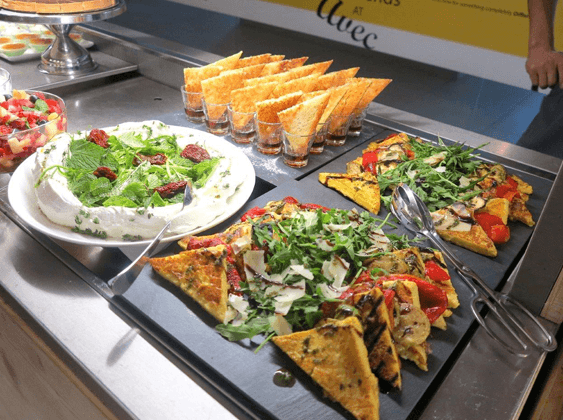 Those who do not know the restaurant «Avec», was opened by the ThinkPad Foods LLC (Think Food LLC) in the summer of 2014, achieving great success through a small period, and turned into a well-known destination in the heart of Dubai Media City, richest surroundings add a modern kitchen and dining hall for smoking shisha.
«Avec» announced in the recent period for new, and is a meal Branch on Friday, inspired by the diverse international cuisine, taking on the world's food Plumsath own table.
Enjoy a comfortable experience in meal Branch on Friday with «you». Special dishes were selected to include a variety of flavors at competitive prices, making it the perfect place for family sessions and fun to spend time with friends, or to meet before attending an event hosted by Dubai Media City. Offers Brunch Buffet and includes a corner of power, which is characterized by the restaurant and runs five meters, and is the longest of its kind in the UAE, and added to it eight cooking stations is to eliminate all hunger.
Enjoy no longer options and countless, from bread and pastry station, to direct where the chef frying eggs attend all methods before moving to the Department of Health breakfast or hot breakfast station where visitors will find the most delicious pancakes and pasta station. And of course, do not yourself pies crape exotic names, and stuffed pancakes, salty or sweet, which is aided by good chocolate notela or meat, smoked turkey with cheese.
And do not forget to visit «Big Mama bot», which runs from north to west and from land to sea and offers dishes carefully selected to satisfy all tastes. And well-known dishes, we recall the classic chicken cooked on the backburner, and is the chicken pieces with mushrooms, carrots and herbs of Provence that cook on low heat which bears fragrant white sauce, or Moroccan Fish Tagine, and is white and flavored grilled fish served with potatoes with olives and tomatoes. Gastronomical taste authentic Arab and Eastern Try grilled meatballs, and eggplant and tomatoes, spices or meat pellets and eggplant with fresh cherry tomatoes that is baked until it reaches the top of the flavor.
And, of course, do not forget that're visiting sweets station and choose what she desires of colorful cakes molds made on the way home, and pies that make up the best conclusion to your meal appetite. During the meal Brunch, you enjoy a beautiful family experience, where children can play in an area specially created for them, where they will find delicious dishes loved by children. Brunch is not complete without coffee, as proud «Avec» using locally roasted coffee grains from the production company RAW coffee, and attend directly in the restaurant at the hands of experts in coffee, are keen to renew your energy before the end of the week.