Hundreds of hotels offering breakfast every evening, including dishes from the Lebanese, Egyptian and Turkish cuisine
Kempinski Hotel & Residences Palm Jumeirah
This tent can be suitable for anyone who likes to enjoy more of the focus on the food itself atmosphere, with arrivals can enjoy breakfast time in the session inside the tent, or sit outside to enjoy the view overlooking the gardens in the man-made island in the shape of palm trees On the sea.
Ramadan tables and immerse the delicious of energy-rich foods such as dates.
Address: Crescent West, Palm Jumeirah – Dubai
Phone:04 444 2000
Atlantis, The Palm
For fans of the Asateer tent Atlantis Hotel located on Palm Island is the most appropriate place, as it contains the tent that can accommodate more than 900 people On the all sorts of
And stretching the tent on the coast bright red-colored sofas and soft lighting and quiet.
The chocolate-covered dates and Mahashi and grape leaves from the menu or the basics of Turkish sweets and Alnouga UAE, dates and baklava pastries occupies top spot.
Those who move away from the food to entertain himself playing playoff station wagon, traditional games of Arab heritage also.
Atlantis, The Palm, Crescent Road, The Palm, Dubai, United Arab Emirates
Email: info@atlantisthepalm.com, Telephone: +971 4 426 2000 (24 hours)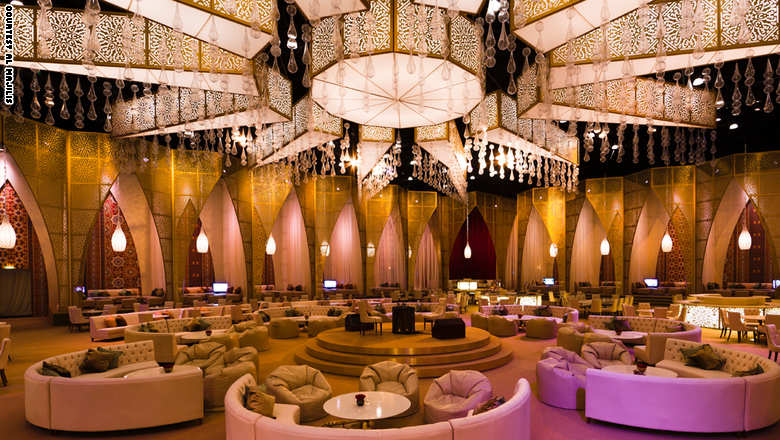 Madinat Jumeirah (Dubai)
"The Council" tent at the Madinat Jumeirah is a less Jvea for families, they are not allowed to enter from under the age of 21 years, mediating Khaimah huge chandelier on the shape of a star, dripping with hundreds of Beads from beads crystal, adorned tables covers openwork as chiffon, amid the dim lighting .
And are various rendered crispy, with the authorities which topped Lebanese white cheese, onions, olive oil, reach you at the hands of presenters dressed in red Trabah.
World Trade Center (Dubai)
This site features a dimension for advanced luxuries, and gives the traditional Arab character of the market, such as wooden Almaidat gold and lanterns.
The center offers a buffet-winning several awards more than 50 kinds of foods such as meat balls Bkabh Almgamsh Kubba and for vegetarians with vegetables and potatoes, as well as grilled meat with halloumi cheese and fresh thyme.
Bab Al Shams Desert Resort & Spa
It may be difficult to imagine how one can enjoy in a tent located in the desert with temperatures exceeding 40 degrees Celsius, but the ambient temperature inside this tent can be controlled.
And it offers an this tent and entertainment such as playing music and dance Sophie, located tent in the courtyard of the desert fortress surrounded by lanterns glass dim lights, to come out of the League of chefs and give visitors the delicious of delicious meat and grilled fish, chicken and hot bread and baklava.
Can also be on the surface of the site enjoy the view of the upper desert and watch the belly dancers and presentations of horses disappear in the desert night.