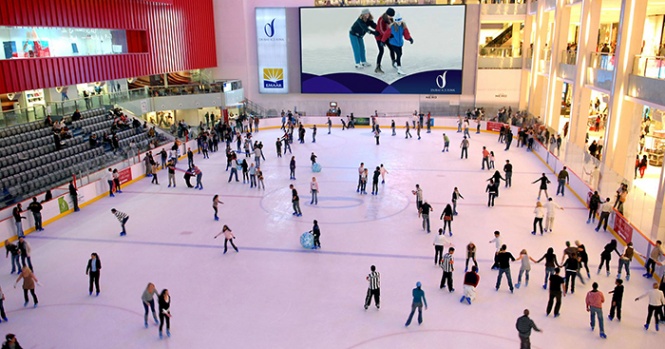 Entertainment places that attract large numbers of visitors, Dubai Ice Rink , designed according to international Olympic standards, and recently got the ring on updates include a range of facilities and the launch of "Academy Dubai rink" specifically targeted for the younger generation to be preferring them an option.
In addition to the training programs of the Academy and the meetings of the ski, the ring has launched new offerings such as musical evenings with the "DJ" and concerts "foam" and others, so that all visitors to the ring live an unforgettable experience in one of the coolest destinations concerts in the city of Dubai.
Dubai Ice Rink family entertainment destination with a distinctive runways can accommodate about 350 people. And it can be used for multiple purposes for accommodation concerts, or to host special events and social gatherings
There are also a variety of restaurants and cafes, which allows visitors to relax in a distinctive atmosphere, while can host a variety of recreational activities on the ice, in addition to the live broadcast of many sporting events that enjoy wide popularity, on the giant screen in the ring.
Dubai Ice Rink located in the heart of Dubai Mall in Dubai city center.
| Activity | Timings | Price per person (AED) |
| --- | --- | --- |
| Full Freestyle Ice | 11.00 am – 12.00 pm | 40 |
| Public Session [1/3rd Ice – Academy Ice] | 12.00 pm – 02.15 pm | 60 |
| Family Disco Session | 02.30 pm – 05.30 pm | 80 |
| Public Session | 05.45 pm – 07.45 pm | 60 |
| Disco Session with DJ Subandrio | 08.00 pm – 10.00 pm | 100 |
| Disco Session | 10.15 pm – 12.00 mn | 80 |