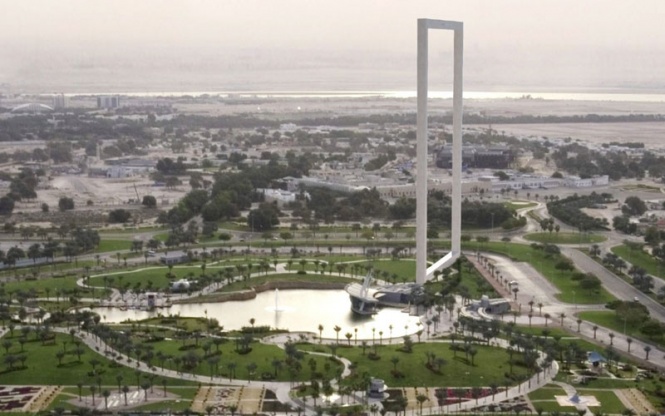 Dubai Frame .. number one destination in the world," This was announced by Eng. Hussain Nasser Lootah, Director General of Dubai Municipality on third-governmental summit, which was held recently in Dubai margin.
Dubai Frame located near the gate of the stars in Zabeel Park and at a cost of 160 million dirhams college, and ends the work with the second half of this year will become a landmark connects the past with the present, and explains the history of the evolution of the Emirate of Dubai and its inception.
It is a comprehensive framework glassy and transparent, highlighting the emirate's landmarks and uniquely, and be whole in the form of a frame in four equal measurement points, so that a high Aldilaan 150 meters, and a width of 93 meters to form a vacuum between the Aldilaan a beautiful picture of the city of Dubai and the clear-cut and high altitude, so that conveys the one hand: Landmarks and Buildings Sheikh Zayed Road, to symbolize the modern city of Dubai, with the second show of Dubai Frame landmarks regions Deira, Bur Dubai, which symbolizes the old Dubai.
The ground leg of the frame is designed to house a museum tells the story of the evolution of the city and information on past and present, and an offer for everything related to Dubai ancient and modern, through the use of the latest display modes.
And beautiful in Dubai Frame that horizontal rib upper can access it through a panoramic elevator will be rib glass full, so feel visitors as if they were walking in a vacuum, and let this idea for visitors to enjoy the sights of Dubai from all sides, to include this part of the building a special cafe and a number of services , to be added enrich Dubai's famous icons, such as the Burj Khalifa, Emirates Towers and the Burj Al Arab, and others.
It is noteworthy that the British newspaper Daily Telegraph included Frame Dubai during the month of January, as one of the best new tourist destinations during 2015.