Many people prefer to travel during the short trips that their stay be in the adjacent hotels to shopping Malls, so as not to waste their time in the transport mobility, and the city of Dubai has a huge malls that are more like a city in itself.
5 of the best hotels in Dubai that have a direct contact with the mall to make it short Rahlatkm fun and useful

Kempinski Hotel Mall of the Emirates
The hotel is an ideal location hews Mall of the Emirates, and offers the convenience of guests arriving for work or pleasure, great for the proximity to shopping, restaurants and entertainment centers, world-class shops. As the mall alone contains more than 520 prestigious stores, Cinema and Fox with four ten screen and several restaurants and cafes, not to mention the first roofed skating rink in the world.
Kempinski Hotel also offers community relax enjoy memorable times in Softouch Spa, or lying down beside the swimming pool under the clear sky.
Address: Mall of Emirates,lSheikh Zayed Rd,Al Barsha 1
Phone:+971 4 341 0000
The Address Dubai Mall
Upscale and luxury hotel guests offers a unique blend of Arabian hospitality in an atmosphere in a very modern and the diversity of cultures.
Dubai is located in the trendy city center overlooking the world's tallest tower, Burj Khalifa, Dubai Mall and extension and one of the largest shopping and entertainment destinations in the world.
Provides The Address Dubai Mall, experience luxurious accommodation rooms and suites, 244 guestrooms and each of which is designed with the utmost excellence and exclusivity, as well as restaurants and five delightful health and Mentdjah with luxury luxury and shopping services and innovative tools available to manage the business with all the comfort facilities.
Address: Dubai – United Arab Emirates
Phone:+971 4 436 8888
Raffles Hotel , Wafi Mall
It integrates a wonderful hotel which is a landmark in the form of distinctive Asian flair throw between Egyptian and beauty, and offers luxurious space and service unrivaled sleek and modern taste.
In addition, it is adjacent to the shopping mall Wafi Mall and just minutes from major tourist and cultural attractions and shopping, and is therefore ideal for travelers on leisure trip.
The rooms and suites are among the largest rooms and suites in the city. Rooms start from 70 square meters wide balconies, offering great views of each room of the city skyline in Dubai.
The hotel also features a range of culinary experiences with award-winning restaurants along with a spa is a haven for relaxation with outdoor pool, and a fitness center fully equipped and a range of spa treatments
Address: 13th Street, Sheikh Rashid Rd, Waficity
Phone:+971 4 324 8888
Mina A 'Salam, Madinat Jumeirah
Mina A 'Salam, Madinat Jumeirah embodiment flagrant peace to the lives of the ancient sea in Dubai, and unique location on the shores of the Arabian Gulf, this hotel is a gateway to the Madinat Jumeirah, and a transit point of many waterways and walking paths that make their way to all corners of the Madinat Jumeirah
The pursued will take you to a range of international restaurants and cafes, and to Thales health spa and resort market Jumeirah Heritage City, which hosts dozens of clothing stores, shops and galleries that make you unique shopping experience of its kind.
Address: Madinath Jumeirah Resort,Al Sufouh Rd, Jumeirah
Phone:+971 4 366 8888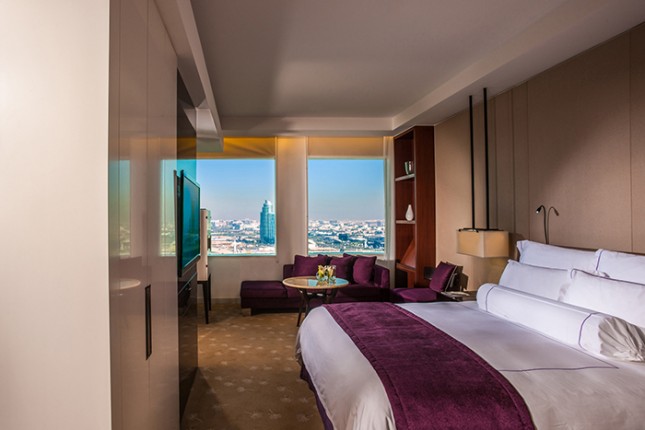 InterContinental Dubai – Festival City
This wonderful hotel inspired design stands of majestic sailing boat on the Dubai Creek in an ideal location for business and tourism.
Hotel direct contact with the Festival Centre in the center when it is located near the Al Badia Golf, which contains 18 holes.
It includes the Intercontinental Festival City Hotel all the amenities it includes distinctive ruffle Pierre Gagnaire restaurant winning a Michelin star, and an integrated spa, an outdoor pool
Address: Dubai Festival City
Phone:+971 4 701 1111