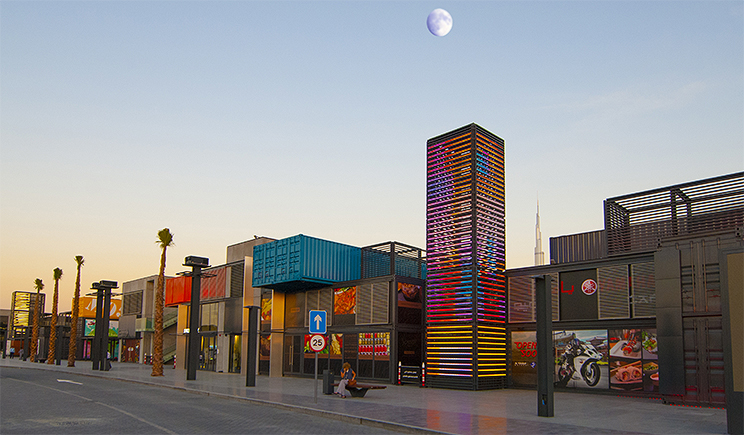 Recently opened in Dubai, "Box park" , the latest point of shopping and entertainment in the open air and a subsidiary of "Holding anchors", which includes the company's distinctive projects in Dubai such as The Beach THE BEACH, and City Walk City Walk.
The new urban destination offers concept for modern life style, which inspired his designs of urban renovation projects that combine the concepts of the new architectural designs through to give aesthetic touches on the storage containers.
Box park distinct experience for those who are looking for a way of life different and new in Dubai, as it is a new destination urban offers a wide range of unique shopping experiences and restaurant options that have been picked up specially from around the world within a modern concept satisfy all tastes of the emirate's population .
Box park offers to the people of Dubai and visitors a new option gives them the opportunity to enjoy the experience of shopping in a distinctive outdoor. Following the success of similar concepts around the world, represents a "Box Park" a hospitable welcome visitors who are looking for change.
New destination include 44 stores, a restaurant, a cafe and entertainment brand, thereby combining the finest local and global concepts to meet the aspirations of Dubai's population of citizens and expatriates.
Includes the concepts that are open to the public in a week the launch of the new destination:
Dri Dri: Algelato shop Italian design heritage.
Polliwalks: to sell children's shoes shop, lends a touch fun on the feet of children through a variety of shapes and colors.
Rundholz: German luxury brand of fashion.
Urbanist: where the population of the city of Dubai is looking forward to the latest fashion and unique experiences as well as interesting and distinctive paintings and colors for their homes things – without giving up their passion for authentic heritage.
Typo: submit innovative ideas for gifts and stationery and decoration of rooms and other distinctive products.
The Zoo: innovative shop for gifts, clothing and accessories, combining different styles and forms of innovative and inspiring manner.
Toms: specialized global brand, which drew Olbargata Argentine design for making shoes and glasses, and is committed to providing sales revenue to the needy in developing countries.
LIV by Giant: specialized bike shop offers a comprehensive range of products designed specifically for women passengers cycling females, ranging from the beautiful to the high-end sportswear and premium bikes.
Nike: reflects the brand's commitment to sport to inspire women and men to adopt a healthier lifestyle.
Adidas  : a mix of everyday clothing and high fashion includes colored sports uniforms, T-shirts decorated, and sporting a distinctive footwear and accessories.
It will also be opening a variety of stores in the next few weeks in Box Park, and include different brands such as:
Mikado, The Brass, Bianca Mozzarella & Co., Yamaha Café, Jag Restaurant, Shish Fish, Number 3, Pitt Stop, The Melting Pot, Kuai, Classic Car Café, Filful, Ahwak, Logma, La Noisette, Big Smoke Burger, Grom, Love Mshy, Brownies Box, Marimekko, OnePiece and Imaginarium.
Operation Falafel، Gossip Desserts Bubbleology , Just Salad Big Chefs Studio Masr , Cioccolatitaliani , Markette , Yogurtland، Poupette à la Plage , Swatch و Angels.
The "Box Park" is strategically located in Al Wasl Road between Safa Park and Emirates Post. It can be reached this destination from Sheikh Zayed Road through Safa Park exit towards Jumeirah area, and is easily accessible via bus RTA