Mushrif Central Park – Abu Dhabi reopened after two years of redevelopment work on March 20, 2015.
The development process, which came to design reflects the local traditions and vital nature and in accordance with the highest international standards in terms of a healthy environment and modern services, the central Supervisor garden will be one of the facades highlights of the city of Abu Dhabi and Dora gardens, where will offer visitors a wonderful experience to be provided by the attractive and interesting environment for relaxation and exploration and enjoy and entertainment, in a picturesque and green natural between natural views, trees and tables and water fountains.
And you will see around the new park on the occasion of the opening celebrations of several community full of fun for children and adults extends over the weekend also includes a host Ribe market Food and goldsmiths, starting on Saturday, March 21, 2015.
It will be the opening day of garden central supervisor days societal par excellence where will enjoy everyone with a variety of appropriate activities for the family in the outdoors, including workshops for making kites, sports, storytelling and ring of drums and a presentation concert of Coral Abu Dhabi in the afternoon.
Opening the festival will extend over the weekend and will include on Saturday, March 21, 2015, with the launch of Ribe Food Market Weekly and goldsmiths Mushrif Central Park in cooperation with the Association House lonely and so time of 16:00 and until 21:00.
And it will include the garden beautiful geometric touches in harmony with the natural and trees and water tables that will reduce heat surfaces in the park, as well as monuments and new facilities, including "an interactive children's museum" and a petting zoo, as well as fountains and water formations dedicated to walking and running trails length up to 3 kilometers.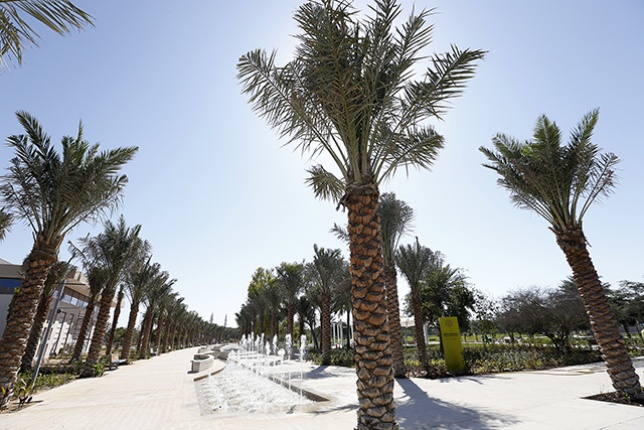 It will also provide the park for nature lovers and those interested in flowers and plants enjoy the possibility of visiting the "Botanical Garden" and "shade house", and was allocated the technical center and offers a garden sculpture and "Friday Market" to learn about the culture and heritage of Abu Dhabi.
Sustainable Garden is located between the intersection of Dalma and dignity, and with an area of ​​14.5 hectares, a length of 690 meters and width of 205 meters. Community Garden will also be open to all residents and visitors of Abu Dhabi city, and after that entry was restricted since its inception in 1982 on women and children.
It should be noted that the company "devoted Valley," the US who have designed the eye Wildlife Park is one of the new design for the Mushrif Central Park