Are you tired of the routines of daily life and its hustle and bustle? Do you dream of spending moments of calm and romance with your husband? You have all this and more in the city of dreams Dubai; a city that can fly you high, to travel you to a world of tranquility and beauty thanks to a variety of restaurants are the most wonderful; how not to welcome you with its elegant decor, stunning designs, and charming view, Appetite, to make your visit a special occasion full of love and poetry. In this article, we have selected the best and most romantic restaurants in Dubai, and we openly contribute to giving you an unforgettable experience with your partner. Find out all the options if I have the right choice for you later!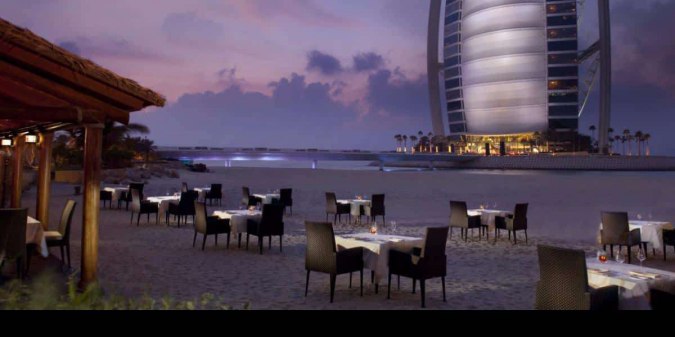 1. Villa Beach
Charming views of the Burj Al Arab hotel with its sparkling fresh turquoise beaches and polished wooden floors that blend in with a casual atmosphere, feel you are miles away from the city and its bustle; this is the Villa Beach restaurant, a perfect experience that travels you into a dreamy world of romance. There is also a wide range of Mediterranean cuisine, including choices of large paella, seafood, fresh meats, unique flavors and delicious appetizers that can not be forgotten by your stomach. Relax if you enjoy Mediterranean cuisine and the beauty of Dubai's charming city accompanied by a lifetime companion.
Restaurant Guide:
– Address: Jumeirah Beach Hotel, beachfront location directly overlooking Burj Al Arab
– For reservations: 971444233232+
– Inquiries: 97144068719+
– Lunch: served daily from 12:30 to 15:30
– Dinner: Served daily from 18:30 until 23:30
– Prices: AED 1700 per pair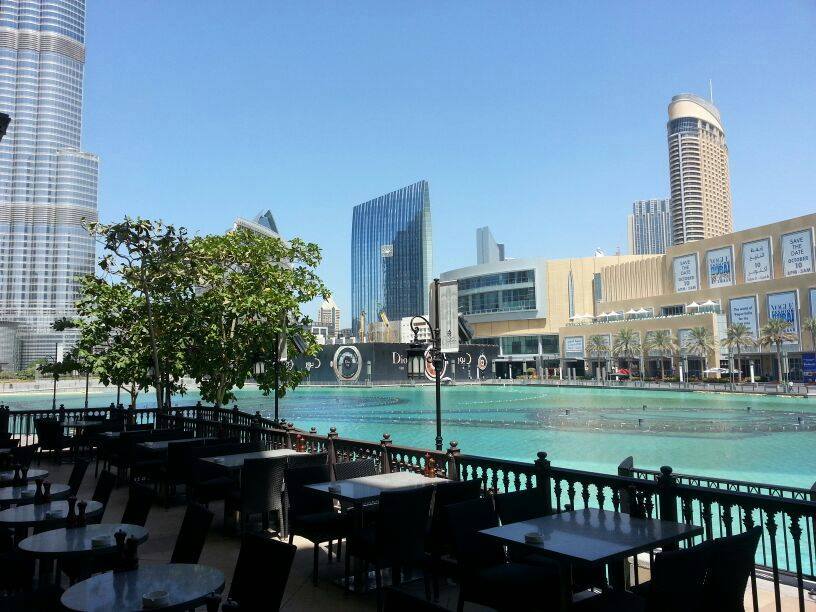 2. Urbano
Located in the heart of downtown Dubai, with a unique beachfront market and a stunning view of both the iconic Burj Khalifa and the picturesque Dubai Fountain, this stunning restaurant stands out as a bright beacon with its luxurious decor and romantic ambience. There, you will not only enjoy the wonderful atmosphere, but you will also be able to eat just as if you were in Italy thanks to a variety of famous dishes such as Lasagna, spaghetti and carbonara, as well as pizza with its fine crust and rich ingredients. Sit you and your lover inside the restaurant, or when you view the exterior, and the excellent services, excellent views, and also all the atmosphere of relaxation and tranquility.
Restaurant Guide:
– Address: Downtown Dubai, Dubai
– Telephone number:: 044355666
– Working hours: Daily from 10:30 am to 11:00 pm
– Rates: AED 250 per pair
This restaurant offers you a unique experience in the world of food through a wide variety of seafood and Italian cuisine with high quality flavors. How not, the winner of many prestigious awards, most notably the choice of the best seafood restaurant in Dubai for 2012 and 2013, and the best seafood restaurant in the East Middle East in 2013. This is not all, the place will take you to a beautiful world of dreamy romance thanks to its location in the center of Dubai and the outdoor terrace directly overlooking Burj Khalifa and the Dubai Fountain. On Valentine's Day, the preparations are very special; a menu usually includes four dishes of Italian cuisine, along with a bouquet of drinks and appetizers, with a special price that will satisfy you and your partner absolutely. Is there more beauty than this?
Restaurant Guide:
– Address: Souk Al Bahar, Downtown, Dubai, United Arab Emirates
– Telephone: 97144230982
– Working times: Daily from 12:00 until 12:00 midnight
4. Rivington Bar and Grill
Located in the heart of the Jumeirah market, this iconic property offers you a unique blend of classic British cuisine and delicious drinks, amidst attractive wooden décor and a modern ambience in light, warm colors. The restaurant has three levels, a unique dining corner before or after dinner, and features an elegant outdoor terrace that offers the visitor stunning views of the waterfront. Do not ask about the special atmosphere in the special occasions, such as Valentine's Day and others. Guests enjoy an innovative and luxurious menu that includes a variety of British cuisine, beverages and desserts, all at a special price that will make you love the place more and want to accompany your partner.
Restaurant Guide:
– Address: Jumeirah City Market – Jumeirah Road – Dubai – United Arab Emirates
– For inquiries: 97144230982
– For reservations: 971555008972+
5. The Ivy
Another British masterpiece, this time overlooking the Jumeirah Emirates Towers, to take you to the atmosphere of romance and luxury thanks to its elegant decorations and red roses distributed on the tables in a heart-wrenching scene. The service is another test of excellence, where you and your partner will experience a rich meal of unique dishes, such as duck salad with hot chili melon with nuts, smoked salmon with potatoes and the famous pastry pie, as well as a wide selection of desserts, Wireless Internet, and others.
Restaurant Guide:
– Address: Jumeirah Emirates Towers, Sheikh Zayed Road
– Telephone: 044323232
– Prices: more than 500 AED