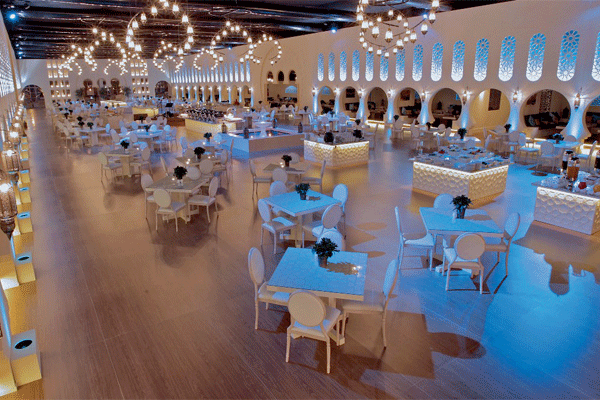 Emaar preparing as usual to receive the holy month of Ramadan through the organization of the Ramadan tent " Downtown Tent " and which is the first destination to meet with family and friends during the holy month of Ramadan.
Khaimah is located in the heart of Dubai and specifically in the Boulevard Mohammed bin Rashid, where the tent is characterized by charming views of the Burj Khalifa and the Dubai skyline. The tent is made up of nine large yard for more than 700 people, it was decorated with lanterns and brilliant chandeliers to embody the traditional atmosphere of Ramadan and Arabic.
This year, the tent offers a breakfast menu includes delicious traditional Arabic and international cuisine, as well as drinks and refreshments and Ramadan sweets at sunset and a list of the tastiest morning meal includes international cuisine in addition to a bouquet of a variety of shisha flavors.
Tent Downtown also provides an atmosphere full of activities of various Ramadan notably card games and dominoes and backgammon in addition to screens large display to watch the matches in 2014 World Cup, on the other hand, offers the camp musical atmosphere witch is the traditional or global songs and Arabic provided by the most prominent teams and artists and that Arab singers.
Emaar Downtown Tent
Location: Boulevard Mohammed bin Rashid, Dubai Downtown
Tel: 97144238883
Restaurant category: Oriental, Arab and international cuisine
Thursday Hours: Sunday to Wednesday 6:00 pm to 2:00, to Saturday 6:00 pm to 3:00 am
Price: Customized and Service
Payment method: Cash, Visa, MasterCard
For reservations: downtown@emaar.ae