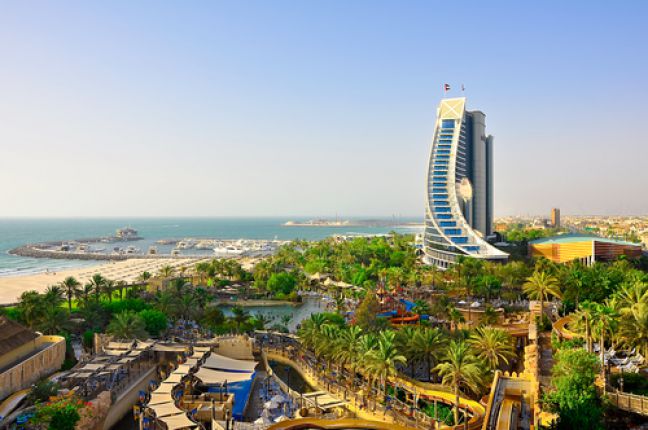 Jumeirah is neighborhood of Dubai City, United Arab Emirates located in a part of Dubai known as Bur Dubai and is considered one of the most ancient neighborhoods of Dubai's high-end walk-through or Jumeirah Beach Road Street, and the most prominent religious and tourist features is the Jumeirah Mosque.
This neighborhood is characterized not to the height of buildings in which abound where cafes, restaurants and private clinics and some of the elegant shopping malls such as Mercato and Town Centre Jumeirah, the center of the beach.
The name comes Jumeirah because this neighborhood in the past was considered a village of fishermen, who are perceived by them to their village lights when they return from fishing at night like embers from the fire Tdelhm to the path of safety.
The effects belonging to the era of the Umayyad Caliphate indicate prosperity of this region and nautical commercially have discovered, because it shows the importance of the Umayyad Center in Jumeirah.
Jumeirah Beach (Jumeirah Beach) extends from north to south in Dubai is an important part of the city of Dubai and is the largest lifeline, includes many of the resorts and the city are no donkeys, which include several resorts such as peace port resort, and hotel Palace Hotel and Dar Al Masyaf.
It is located on the Jumeirah Beach also famous Burj Al Arab Hotel, and Jumeirah Beach Hotel, in which foreign restaurants abound breeding foreign tourists on the beaches of Jumeirah, and other hotels.