The perennial problem for holidaymakers in Dubai, UAE is hotel accommodation. We all know living in Dubai doesn't come cheap, and it seems even spending the night in the city requires deep pockets. It can be prohibitively expensive at the best of times and even more so now that many other currencies are not at their strongest against the dirham. Currently, it is ranked second most expensive city to live in, just below Geneva.
Luckily, Dubai is not a city where you're likely to spend much time in your hotel room, so if you're strapped for cash it makes sense to trim your accommodation budget.
A new wave of 'affordable' hotels is springing up in the city that never sleeps, with many offering a range of 'freebies' including complimentary breakfast and free WiFi.
So if you're looking for a spot to rest your weary head after a long day sightseeing, why not try some of these hotels and tips?
Tips to get best hotel deals in Dubai cheaply
With the following tips, you and your companions can trim hotel costs and enjoy a delightful getaway without breaking the bank.
Time of your stay
When it comes to getting a good deal on a hotel room in Dubai, timing can be everything. One of the easiest ways to trim your travel budget is to go off-season.
You may be able to reduce your hotel bill by staying midweek rather than during the weekend.
Hotels also often drop rates after 6 p.m. if people with reservations have not arrived.
Haggle
In some cases, it's appropriate to negotiate a room rate.It's important to do this tactfully and to pay a fair price in the end.
Frame your initial offer so that it doesn't create a combative exchange,
"For example, 'I'd really like to stay here, but $80 a night is a bit higher than my budget allows. Would you consider dropping that by 15 percent?'"
Sometimes, you'll get a receptive response. If the answer is a solid "no" or the person seems offended, let it go! However, in most cases, Hotels do agree to give discounts.
Consider hotels that don't appear on major search sites
Many small hotels don't want to pay search site commissions, and therefore they don't participate. When you call them, you're often talking to an owner or manager who is empowered to offer a discount. TripAdvisor is a good site to use to identify these small hotels, but you should go directly to the hotel to make reservations.
Go with a package
If you're traveling to Dubai, look for a deal that includes hotel, airfare and car rental, which may be cheaper than buying these components individually. Many hotels offer packages that include everything you might need during the trip.
Now Let me suggest you a couple of hotels in Dubai, which are not too expensive but are very good to live in!
Suggestions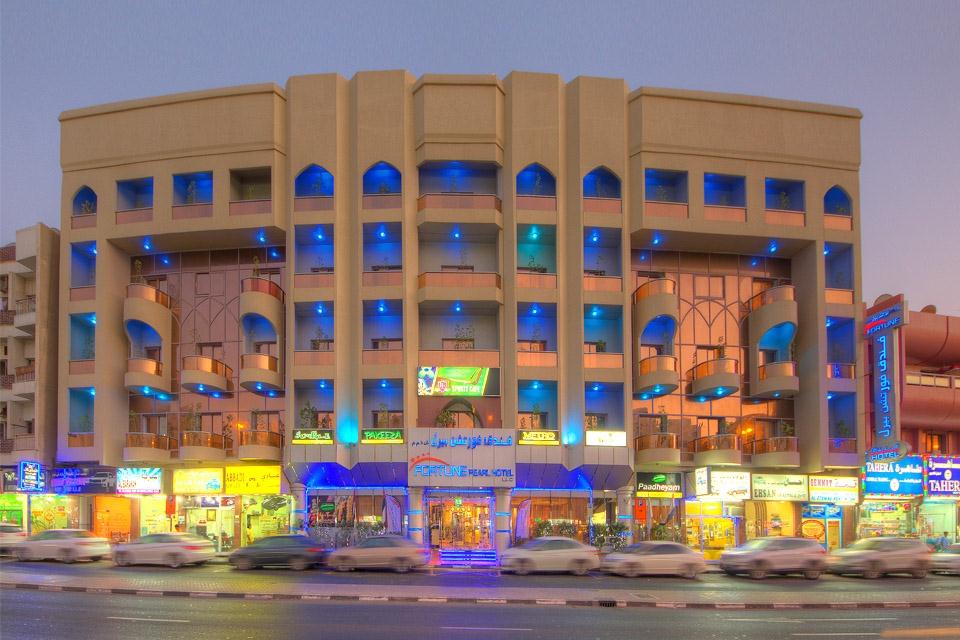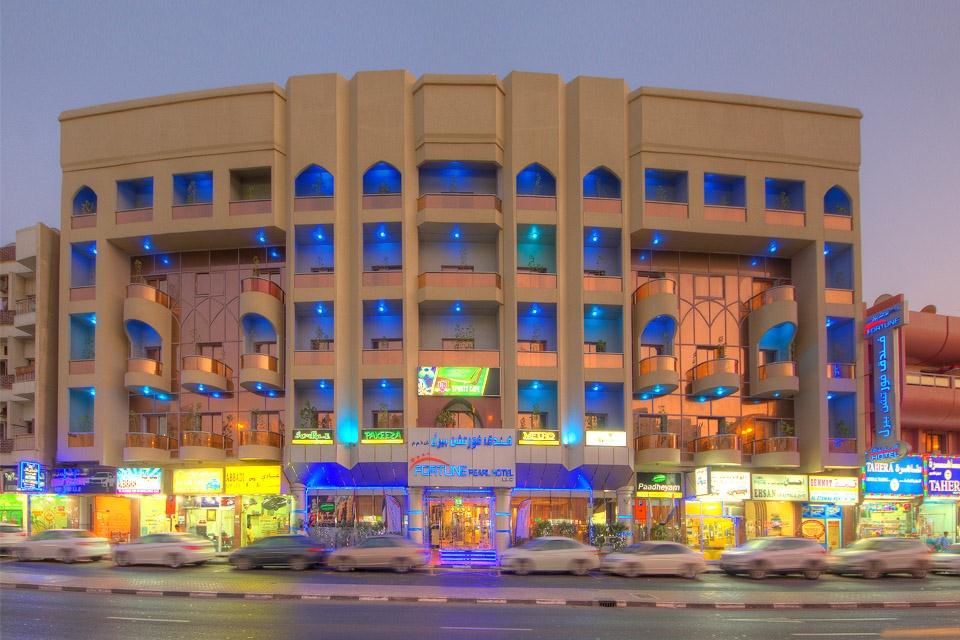 Fortune Hotel Deira
This is one of those hotels that looks to be an expensive one but in deep, this hotel is pretty cheap providing you a lovely suite for about 40$ a night. Address :
Omar Bin Al Khattab Road, opp DEWA office, Deira, Dubai, United Arab Emirates 49185
Premier Inn Dubai
All guest accommodations feature thoughtful amenities to ensure an unparalleled sense of comfort. The hotel's fitness center, outdoor pool, billiards are ideal places to relax and unwind after a busy day. Premier Inn Dubai Investments Park is your one-stop destination for quality hotel accommodations in Dubai at a very affordable price. Address :
E311, Jebel Ali, Dubai, United Arab Emirates 35118
Rafee hotel
Experience high quality room facilities during your stay here. Some rooms include internet access – wireless (complimentary), internet access – wireless, non smoking rooms, air conditioning, desk, provided to help guests recharge after a long day. The hotel's recreational facilities, which include outdoor pool, massage are designed for escape and relaxation. When you are looking for comfortable and convenient accommodations in Dubai, make Rafee Hotel your home away from home. Address:
Al Burj Street, Naser Square, Deira Dubai., Deira, Dubai, United Arab Emirates
Time Palace hotel
Step into one of 28 inviting rooms and escape the stresses of the day with a wide range of amenities such as desk, air conditioning, refrigerator, telephone, toiletries which can be found in some rooms. Besides, the hotel's host of recreational offerings ensures you have plenty to do during your stay. When you are looking for comfortable and convenient accommodations in Dubai, make Time Palace Hotel your home away from home. Address:
PO Box 12769, Ali Bin Abi Talib Street, Al Sooq Al Kabeer, Bur Dubai, Dubai, United Arab Emirates
Pacific hotel LLc
Offering quality accommodations in the nightlife, shopping, restaurants district of Dubai, Pacific Hotel Llc is a popular pick for both business and leisure travelers. From here, guests can enjoy easy access to all that the lively city has to offer. Also within easy reach are Deira Covered Souq, Naif Souq Market, Perfume Souq. Address :
Opp. Sabkha Bus Station, Sabkha Street, Deira, Dubai, United Arab Emirates
There are infinite number of hotels in Dubai; each offering different things for different prices. Above mentioned are just a few of them which I would recommend because they give quality service at a very affordable price. Almost all of these offer package deals too. They can be booked online. In addition to these, you can use those tips to find your perfect holiday hotel! Good Luck!