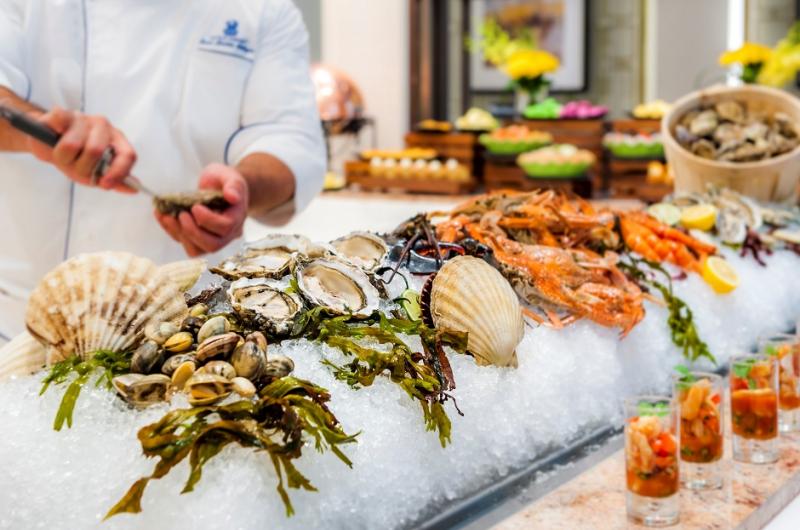 The Ritz-Carlton, Dubai, which features a magnificent sea view that serves Branch every Friday in front of the Caravan restaurant allowing guests the opportunity to enjoy a kick food and health, composed of the finest organic ingredients fresh pleased
Brunch which takes place in the Caravan Restaurant features a range of authentic dishes, which is famous for its Arab, Indian and Western Mediterranean cuisine, also features live cooking stations and other carving cuisine and a special oven for barbecues. In addition, the restaurant offers during this Albrnc also exudes a distinctive flavors of dishes and special spices were sold via the Silk Arab traders who had crossed it through.
There is no doubt that this wonderful feast is the perfect choice for all who wish to enjoy the cuisine appetite and spend a nice time with family and friends, and includes Brunch meal these 15 different section specializes each and every one of them a certain amount of food such as grills and tandoori and seafood dishes and Arabic dishes which is famous for a kind the North Africa region as well as the desalination of appetite which include soluble chocolate flavored dishes, which ensures guests an unparalleled experience. Perhaps the most characteristic of this feast is dedicated to the creative dishes section, offering innovative dishes that are specially prepared Brunch meal ,
Eric Muluh, executive chef at the Ritz-Carlton, Dubai: "We are pleased to offer guests a meal Brunch luxury enjoyed by our guests every Friday at the Caravan Restaurant, has been wanted by the celebration of the flavors that have been discovered through the ancient trade routes", and added: "meal Branch Friday provide the best possible experience in the city and at the same time shed light on fresh, seasonal produce carefully selected from local farmers and other farmers in the Gulf states.
In addition, carrying dishes that we offer to our chef Brunch meal c signature. For example, dishes special includes a sandwich "Big Shawarma Rami" rich cinnamon flavor, which is prepared according to the recipe private Bataha Rami, "Caravan restaurant at the Ritz-Carlton resort is located, Dubai and is an ideal destination to enjoy a meal Brunch indoors or outdoors, and the view of the buffet delicacy or overlooking the Arabian Gulf gardens singing scenes. In addition to beautiful scenery, guests also enjoy playing and singing the band own the resort, which plays the most beautiful melodies, which calls for absolute relaxation.
Also enjoy the restaurant area play at parks offer children different activities such as football and the game of pass the plane disks in the air or organize a private tour of the resort and offers Caravan restaurant meal Brunch every Friday between one and four in the afternoon in three different bouquets start from AED 450. Caravan Restaurant receives guests every day for breakfast, lunch and dinner and snacks.