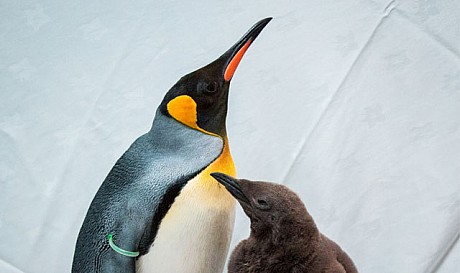 Ski Dubai announced the reception of the first small King Penguins within her family, where a small penguin out of Whitth good health on 17 February and is currently taking care of him inside the house Penguins at Ski Dubai.
The back of this little penguin, according to the newspaper statement, for a pair of King Penguins «Bubbles» and «Wall E» in «Ski Dubai», after the rotation to take care of Whitthma inside the house Penguins. And embraces the Penguins «King» their eggs under the skin flap located at the top of their feet, instead of building a house. The parents are involved then the responsibility to keep the egg warm and safe.
Once the egg Baltfiqis began, rotation «Bubbles» and «Wall – E» to feed Sgerhma The Penguins experts in «Ski Dubai» monitor weight, growth and nutrition closely. At this time, «Ski Dubai» awaiting the results of DNA tests to determine the sex of the little penguin. It is expected that these results are published in the coming weeks.
Said Omar al-Banna, director of sales and marketing sector in the Majid Al Futtaim Leisure and Entertainment: «We are delighted to announce the first small penguins King out of life in the Middle East, as it embodies the living proof of the success of our program Penguins ice, which is an extension of the program upbringing multiple generations Penguins in the United States.
We at Ski Dubai because we have all of our visitors Bosaad moments every day, and we look forward to sharing this special achievement with them. »