Most people take a long time to choose the right restaurant to eat their meal, because they are always looking for taste and taste in the first place.
As such, Dubai is witnessing a number of fine restaurants, which are famous for the taste of its wonderful meals, especially Burger restaurants, which are prepared in order to distinguish its taste from anywhere else.
Burgers come from Hamburg, Germany, but the Americans are the most famous burgers. The average American perger is 3 burgers per week, while McDonald's sells 75 burger sandwiches per second. Dubai is home to many Burger restaurants such as Rhodes Twente 10, which serves burgers covered with Goose liver.
So we came to you with the best 15 Burger restaurants in Dubai, where has prepared it there in a special way that brings its delicious taste to lovers of the wonderful taste, they saw it browse the album above.
In our article today we show the best Burger Restaurants in Dubai which is one of the most famous restaurants
1- The Gramercy
The Gramercy restaurant in Dubai is at the top of the list of restaurants that are the best Burger recipes, but their specialty is the burger, which is made of fine meat and contains unsaturated and useful fats. This Japanese-style burger contains tomatoes, onions, garlic sauce, olive oil, cheese and chips.
Opening hours : 12 Noon to 12 Midnight
Address :Balcony, 2nd Floor, Building 3, DIFC, Dubai
2 – Caliburger
If you are looking for a larger destination, CaliBurger offers you a wide selection of burgers, such as cheese burger, mushroom burger, double burger, burgers with delicious avocado and Mexican-style burgers, what to choose?
Opening hours : 12 Noon to 2 AM
Address : Opposite Mashreq Bank, Jumeirah Road, Umm Suqeim, Dubai
3. Meat Me There
Meat Me There is one of the most modern Burger Restaurants in Dubai and does not offer many options due to the quality of each choice. This restaurant features 3 types of burgers, the most famous of which is Meat Me Burger, made of lettuce, tomatoes, cheese and a secret sauce that gives the flavor and the most wonderful flavor to the dish. The meat of this burger is fresh and is never an ice cream served with the soft bread of the burger and covered with black and white sesame.
Opening hours : 12 Noon to 1 AM
Address : The Souq at Fishing Harbour, Umm Suqeim, Dubai
4 – MOOYAH Burgers
Mooyah, a restaurant specializing in burgers, occupies the fourth place on our list. This menu offers 6 types of ready burger, Mooyah Burger which is the signature of the restaurant, Cheese Burger, Burger Burger, Beef Burger, Burger with Mushroom and Burger with delicious BBQ. If you like burgers with certain ingredients, this restaurant is your destination. You can prepare the burger you want to eat with the ingredients you like!
Opening hours : 11 AM to 2 AM
Address : Al Hadeeqa Street, Wasl Square, Al Safa, Dubai
5 – Gourmet Kitchen Burger
Gourmet Kitchen Burger is one of the best Burger restaurants in Dubai, offering a different taste of burgers with French fries and vegetables such as cucumbers, tomatoes and green peppers. It is located in several branches of The Marbella at the Dubai International Financial Center and Dubai Marina Mall
If you are a fan of Burger and friends but with different tastes, we recommend that you visit the Gourmet Kitchen Burger in Dubai, which will show you a wide range of different burgers, between American taste, taste of Latin and Spanish taste, taste your tastes tastefully.
address : Promenade Level, Dubai Marina Mall, Dubai Marina, Dubai
Opening hours : Today 10 AM to 12 Midnight
6 – Maison Bagatelle
Maison Bagatelle is not a burger restaurant, but we guarantee you will taste the best burger you may have, the meat, mayonnaise, cheese and french fries.
7 – Jones The Grocer
Jones The Grocer, a varied and varied restaurant with breakfast, lunch and signature desserts, Jones Wagyu Burger is one of the best meals you can have among other burgers. Enjoy this dish with a magical combination of specialty sauce and others make you wish to dive into this world.
8 – Qube
If you are a fan of hot food and a hot burgers that may make you cry, Qube is your destination to choose the Inferno Burger. This burglar has been classified as one of the world's hottest burgers.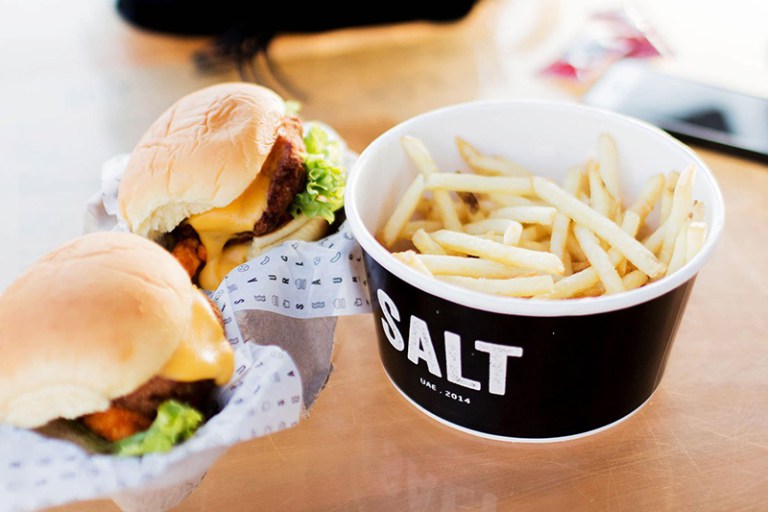 9 – Salt
One of the most beautiful international restaurants to prepare and prepare meals Burger appetite, and offers a range of the most delicious meals prepared with delicious beef, and for the atmosphere of the restaurant is quiet and romantic and offers quiet sessions and also provides a menu for everything that is good for the visitor of fast food .
Salt is one of the most popular places in the Burger, and it is popular for its proximity to the beach and to prepare burgers , and the restaurant is located in the Beach Beach Corniche Jumeirah
10 – Shake Shack
Are you looking for the cheeseburger you might taste? Shackburger in Shake Shack is what you ask, taste will not forget it as long as you live!
Shake Shack one Of the good restaurants with the title of five-star restaurants are very excellent service to customers, both the friendly staff, which welcomes customers with different nationalities, and the meals prepared there are superbly prepared and suit all tastes, in addition to the comfortable and quiet meetings, Emirates, The Beach, Dubai Mall, Mercato and many other branches
11. Elefying Burger
It is one of the most famous restaurants in Dubai, where customers come from everywhere. It has an excellent location that makes it easy to reach. It is located on Jumeirah Road, Sheikh Zayed Road. It offers a variety of Burger menus that can be easily selected. A few minutes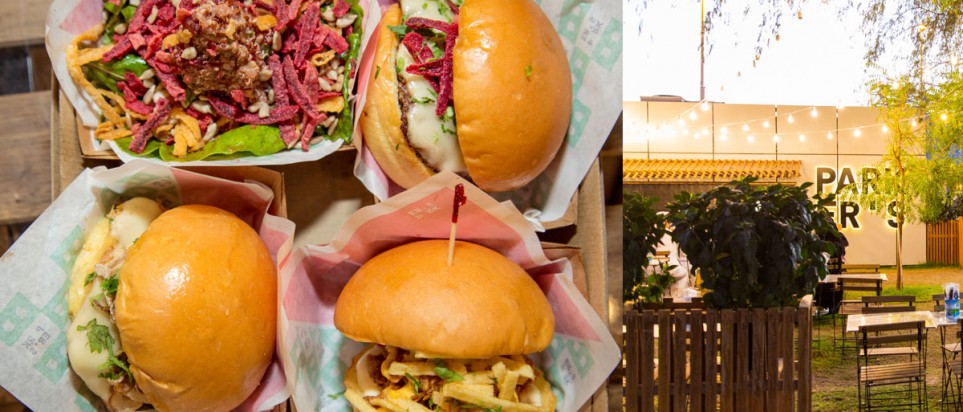 12- Parker's
One of the best Burger restaurants that can be visited in Dubai now, the location is very excellent in the reservoir garden as well as burgers delicious appetizers and serves burgers with soft drinks and European and other appetizers, and the meetings there are comfortable amidst the nature of the charming and calm atmosphere
13 – Burger Joint
Of the excellent restaurants in everything, offering a range of delicious meals, headed by the hot Burger meal prepared in the most healthy ways and also the French fries and green salad, and comes with each meal of its own appetizers in addition to soft drinks,
14 – Five Guys Burgers and Fries
One of the finest Burger restaurants in Dubai is the Dubai Mall and the Dubai Marina Mall, Jumeirah Beach Residence. The restaurant atmosphere is quiet and the decor is serene as well as the unique taste of burgers, French fries, cucumbers and tomatoes
LOCATIONS:
THE DUBAI MALL, FINANCIAL CENTER RD., UNIT TDG – LG-102
12pm-3am Every Day
DUBAI MARINA MALL, SHEIKH ZAYED RD., UNIT GF-038-A
12pm-2am
JUMEIRAH BEACH RESIDENCE, THE WALK, UNIT GM13
12pm – 4am Every Day
15 – Burger & Lobster
One of the finest restaurants that can eat the best types of burgers there because the burgers there are prepared in the best ways to health as well as a lot of ingredients taste delicious, which provides the visitor everything it needs, and for the price of burgers there is an average and according to the meal, Burger & LobsterTower Guarantee at DIFC
Opening hours : 12 Noon to 12 Midnight
Address : Burj Daman Building, DIFC, Dubai