Dubai is known for its shopping, entertainment and entertainment until the early morning hours, Ras Al Khaimah remains the undisputed city of relaxation. The Waldorf Astoria Hotel is one hour away from the nearest luxury city and is the perfect place to escape from the hustle and bustle of life. From the beach huts to the luxury spa to a wide range of restaurants and the famous Waldorf service (thanks to a team that is completely different from everything you've ever encountered). Every minute you spend in this hotel increases your attachment to it so much that you find it difficult to leave.
Residence
This hotel is distinguished from other hotels in the area with a charming façade and a wonderful interior design that captures the hearts. Like all other Waldorf Astoria hotels, the hotel has a very close relationship between hotels and its location. The hotel has a great location that is only proof of the relationship of accommodation, which in fact has earned this series of luxury hotels a great reputation. The idea of ​​the hotel is inspired by the palaces of the Arabian Peninsula, which is a luxury. The sandy color of the exterior walls reflects luxury and benefits from the dark sun to earn a golden glow, while the interior ceilings are vaulted, colors are warm and the marble floor and stairs are majestic.
The hotel has 346 rooms, each with its own extension, greater magnificence and more with special areas for clothes, private server service, high-definition television, wireless internet access, Salatore Ferragamo toiletries and balconies with great views of the Arabian Gulf or the extended desert.
During your stay in the hotel, you can take advantage of a 350 meter private beach, a spa, a fully equipped gym or an 18-hole golf course, tennis courts, water sports, swimming in two pools that.
Restaurants
"Pamper and choose" a phrase that summarizes the dining experience in Ras Al Khaimah. The hotel has 10 great restaurants and bars (yes ten, not fool your eyes!) Offering a wide range of cuisine and flavors, various experiences and different moods.
The Camellia Terrace is the best choice to spend the most beautiful evenings, where you can choose from 150 tea mixes plus many delicious Waldorf Astoria options for afternoon tea such as pickled cucumbers, smoked salmon sandwiches with curry and mayonnaise eggs, fresh cakes and macaroni with salted caramel. While on the Camellia Terrace, a tea expert accompanies you to help you choose the best after exploring the carefully selected long lines of mixtures from different parts of the earth.
Morjan Restaurant is the perfect destination if you want to enjoy a traditional Arabic meal. In this restaurant, you can choose from the most delicious Mezze to decorate your table, including cold dishes that do not miss out like tiboule, eggplant seasoned with sesame cream and artichoke salad with tuna. If you are a fan of hot mazze, choose a grilled haloumi dish, an alkawi cheese pie, lamb confit or falafel.
Far from the east, you can go to the Lexington Grill if you want to spend your evening at the New Yorker style restaurant and have a plate of steak. In addition to an irresistible list of high-end steak dishes, you can choose fresh Irish oysters, grilled ribs, cold meats, Maine lobsters and a variety of Waldorf dishes including the award-winning Taste of Waldorf dish Rice with black truffle and celery prepared by Heinz Beck and David Bouzi. The restaurant features several private rooms for large groups or more private occasions. He also boasts more than 350 wines.
Be close to your evening if you choose to spend in 17Squared. Overlooking this bar and nightclub is a champagne-inspired feature featuring glittering chandeliers, velvet sofas, and a glistening golden bar offering a variety of different champagne types to sip a list of drinks available. The brewery experts at the bar prepare a great selection of drinks in a noisy musical atmosphere that excites your enthusiasm and drives you to dance.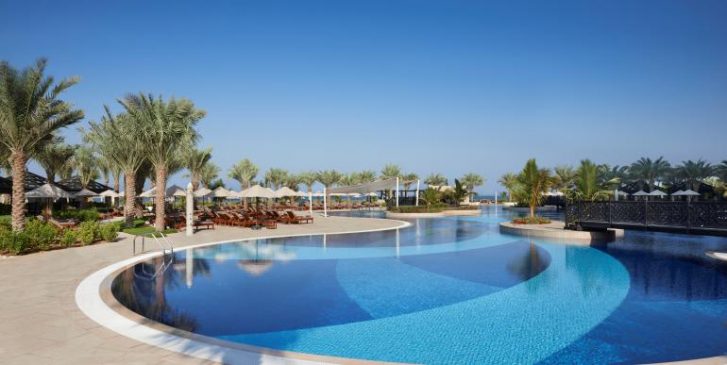 The spa is self-pampering and relaxing
Since its opening in 2013, Waldorf Astoria has proven itself as a place to escape the hustle and bustle of the outside world.
The resort is a great place and offers a variety of treatments that can be changed and adapted to suit your needs. The resort features a luxurious relaxation suite, a fully equipped gymnasium and a VIP room. In addition, it offers herbal baths, a sauna, a steam bath and aromatherapy showers.
This is followed by Waldorf Astoria's unique experiences and can not be enjoyed anywhere else. For example, the main bathroom pump into your bathroom whenever you want warm water with essential oils and fragrances to give you rest and relaxation. The main fragrance combines a number of perfume-based scents available in the hotel's spa and spreads in the atmosphere of your room to provide you with a relaxed and relaxing atmosphere. The best of the hotel is the bedroom where you choose your own items after looking at the list of pillows available, which range from pillows stuffed with organic materials or feathers or hot cherry kernel or wheat and other types of pillows that are intended to fill your eyes.
Finally, do not forget to head to the reception lounge where the original British Toni & Guy salon awaits you. It is the first branch opened