During the holy month of Ramadan, the most famous restaurants in Dubai's offers colorful tables with all the delicious of different varieties of food and beverages to satisfy of fasting.
We have chosen you in a group of restaurants in Dubai, which has announced special offers during the holy month:
Mint Leaf of London, Dubai
The restaurant offers during the holy month of Ramadan eat Arabic inspired by traditional Indian cuisine and innovative modern dishes represent an exceptional experience and a gourmet menu includes, for example, Lahori Poti; chicken marinated my best mixes and spices that give special taste and distinctive.
The "Mint Leaf of London" restaurant, which is located in the Emirates Financial Towers of the most exclusive restaurants in the city of Dubai through its distinctive and charming panoramic views of the city.
Featuring interiors of the restaurant with touches of stone and carved wood, carvings and Indian henna, in an elegant design completed its attractiveness picturesque views of the downtown Dubai and the "Burj Khalifa" tallest building in the world. It features a unique restaurant also offers a lounge and a bar to our visitors a unique experience will drive them to visit again.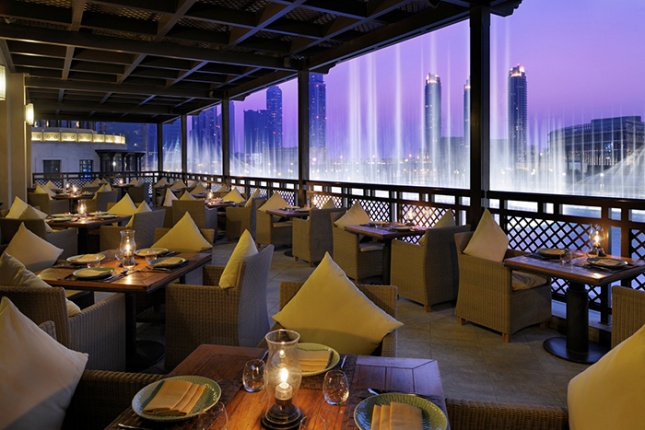 Mango Tree
Mango Tree Restaurant in Souk Al Bahar provides in the month of Ramadan delicacies luxury Thai cuisine for example Thai rice with chicken or meat or even seafood. The complete experience with stunning views of the Dubai Fountain charming, ensuring patrons to experience an unforgettable breakfast. The restaurant decor is characterized by artistic touches combine classic and modern style together. In the spacious balcony overlooking the restaurant directly on the famous Burj Khalifa where guests can relax and have breakfast in a great atmosphere under the stars
Carluccio's
During the holy month of Ramadan will provide Carluccio's Italian restaurant family Iftars delicious, includes breakfast meat and seafood prepared Italian manner characterized by flavors of Chef Antonio Carluccio's Among the many positions throughout Dubai, the restaurant offers a distinctive experience for families and friends who are looking for distinctive Italian breakfast.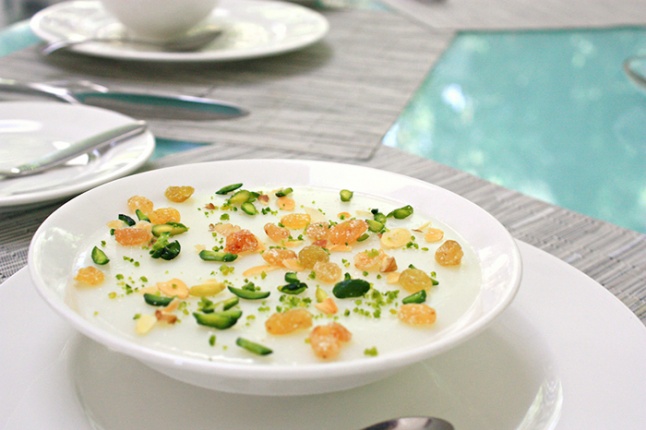 Saffron Restaurant
In Saffron Restaurant in Mirdif City Centre and Dubai Marina Mall, guests can initiate breakfast drink a special variety dates and cut fruits. For appetizers, meat lovers can enjoy a dish kebabs, especially Poti kebab, tandoori chicken and cut (Tandoori Murgh), and Tikka fish with seasoning. For vegetarians also share a breakfast menu in saffron, savoring it impossible for us to cut onions, boiled potatoes and marinated (Aloo Tiki), and Tikka Albaner cheese with mushrooms.
The main dishes include Chicken Tikka Masala, and meat cooked with potatoes (allo Gucht) or fish fillet with curry, served with black lentils soup thick textures, steamed rice, and Indian naan bread. The sweetener, include Gulab Jamun dumplings with yogurt.